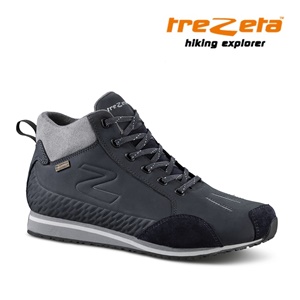 The brand new Blues WP by Trezeta are developed to provide maximum comfort, safety and usability throughout the winter season, to address long business trips around the world, for pleasant walks through the streets of the center, or even for everyday urban use.
Made of soft nubuck leather and suede leather with refined details, the shoes in this line have delicate and modern lines, which perfectly support both the men's and women's feet, thanks to the presence of a specific insole for women, which perfectly follows the ergonomics. The mid cut allows greater safety and protection for the ankle, and gives the boot a more aggressive look.
The Water Stopper membrane, exclusive to Trezeta, coupled to the upper, protects the foot from water infiltrations and external elements, allowing the formation of an optimal microclimate that effectively prolongs the comfort also for use throughout the day.
The sole block is designed to provide stability, cushioning and reactivity: this is why the Trezeta outsole, designed for traction and grip on all surfaces, is connected to a double density microporous wedge, which guarantees the highest performance and long lasting comfort over time.
Blues WP and Blues W's WP are designed and built for all the adventurous women and outdoor enthusiasts who want to stand out from the crowd and always keep a unique style in all situations of use.