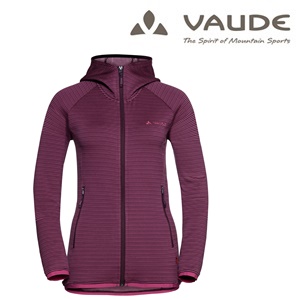 For Winter season 2018/19 VAUDE will be launching for the first time products made of a fleece fabric that feature a biodegradable, softly napped inner lining. As a pioneer in the field of sustainability, VAUDE has developed this fabric in collaboration with the Italian fabric supplier Pontetorto and will be the world's first manufacturer to introduce it – in its Winter 18/19 Collection. The Miskanti Fleece Jacket, a high-stretch fleece for mountain sports, along with several models of the limited "Green Shape Core Collection" are all made with TENCEL® fleece. A good 40 years after the introduction of fleece fabrics to the outdoor market, VAUDE is now for the first time offering a solution to the problem of the shedding of microfibers during the washing process.
This ecological textile innovation was premiered by Pontetorto in the fall of 2017 at the Performance Days Trade Fair in Munich, where it was recognized with the trade fair's Eco Performance Award. This is the first fleece fabric with an inner fiber pile that does not shed any dangerous microfibers, protecting water bodies and living organisms from this hazard. Its construction is what makes it so special. On the smooth outer surface, 100 % (recycled) polyester is used. The inner napped surface of the textile in not made of polyester as it is in conventional fleece, but rather from TENCEL®, a 100 % wood cellulose fiber from the house of Lenzing. This fiber is biodegradable — even in salt water! So if microfibers are shed from the napped lining of the fleece during the washing process, they can biodegrade in any environment in about 90 days, without leaving a trace behind and without endangering any living organism.
The fabric of the Miskanti Fleece Jacket combines all the advantages of a high performance material with environmental sustainability, as TENCEL® is considered a natural performance fiber that features outstanding thermal regulation as well as effective moisture management. It is absolutely skin-friendly, so it's safe for people with skin allergies, and offers a luxuriously soft napped inner surface that's pleasant to the touch.