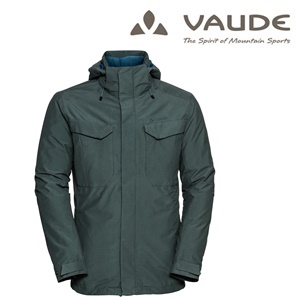 VAUDE is introducing PrimaLoft® Silver Insulation Natural Blend — a new, soft hybrid insulation made from plant fibers — for an eco-friendly yet stylish addition to its collection. The products that feature this innovative layer are not only good looking on the outside; their inner qualities are also first-rate. This trailblazing insulation is making an exclusive debut in the VAUDE Winter Collection 2018/19.
PrimaLoft® Silver Insulation Natural Blend consists of 30 % kapok and 70 % ultrafine PrimaLoft® fiber. The large fruits of the kapok tree contain fluffy, light silky fibers that offer excellent thermal retention and moisture management for a comfortable and lightweight feel. Kapok trees thrive without the use of fertilizers and pesticides, and do not require additional irrigation for growth.
The Men's Rodano 3in1 Jacket is a sporty winter jacket for eco-aware fashionistas is as smart as it is functional. Thanks to the high-quality Ceplex membrane, the jacket creates an excellent microclimate while offering reliable protection from wind and rain. Lightweight, eco-friendly insulation ensures excellent heat retention and a low weight, while the tough woven fabric ensures longevity. The removable, warmly insulated inner jacket makes the Rodano 3in1 the perfect companion in icy weather. The technical highlight of the Rodano 3in1 Jacket: PrimaLoft® Silver Insulation Natural Blend, an eco-friendly solution for optimized thermal comfort.