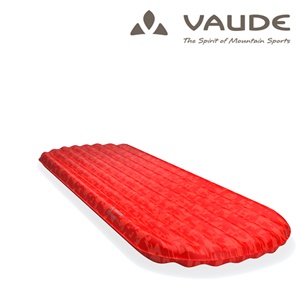 Even outdoors, the proverb holds true: as you make your bed, so must you lie on it. For its newest insulation pads, VAUDE has used not only a highly technical 3D design, but has also set new standards in terms of comfort for camping, trekking and mountain adventures.
For the Summer Season 2018, the outdoor specialist VAUDE is launching a completely new program of insulation pads. With a wide range of features, outdoor sleepers will find the perfect choice for their needs – whether the focus is on performance or comfort. All pads feature a warm, friendly shade of red. Thanks to eco-friendly materials, your eco-conscience will also be able to rest easy.
The VAUDE insulation extravaganza starts off with the Performance pad featuring PrimaLoft® insulation. This 7 cm insulation pad was primarily designed for trekkers and mountaineers who want to keep the weight and space of their gear down to a minimum. VAUDE used PrimaLoft® Insulation Black ECO which ensures optimum thermal performance in demanding conditions. One virtue of this ultra-light sleeping pad is its extremely small pack size. Its rectangular shape with rounded corners also offers the best compromise between low weight and maximum comfort when used in a tent or directly under the stars.
Vertically aligned air chambers also help give the pad an ideal ratio of weight to comfort. The upper insulation is high-frequency welded, guaranteeing high thermal retention while providing optimal heat reflection. The VAUDE patent-pending flat valve is a breeze to use.
The Performance pad comes in Size M (183 cm x 51 cm) and Size L (196 cm x 61 cm) and is available in both standard and winter versions. The winter version features more insulation (200 g/m² Primaloft® Black Insulation ECO instead of 60 g/m² for the standard model) that guarantees high thermal retention and a warm and cozy microclimate for the night, even under the most extreme conditions.