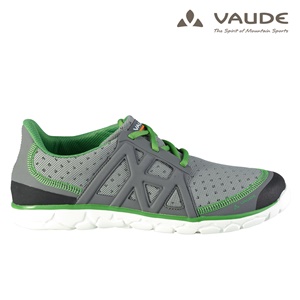 Lightness from head to toe is an overarching theme in the VAUDE Summer Collection 2017 – and shoes are no exception. The lightweight TVL Easy introduces a new dimension of convenience and is a perfect choice as light travel-treads or as an after-sport shoe following a strenuous mountain tour. A shoe for the active (re) generation!
Who isn't familiar with that great feeling you get when you can finally take off your heavy mountain boots after hours of hiking, or strip off your tight fitting climbing shoes. Out of your shoes and into the cold creek bed. Unfortunately, this is a rare find at the end of a tour, which is why VAUDE has designed the TVL Easy – so you can seamlessly transfer over from sports to relaxation. With lightweight, breathable mesh materials and 100% recycled foam construction, the upper features reduced-seams. A stabilizing cage construction supports the midfoot, while keeping the weight at an absolute minimum (men's size 42 with 190 g, women's size 38 with 160 g). Thanks to a small pack size, there is always a corner free in your pack to slip a pair in.
The TVL Easy boasts a few eco-bonus points for a small footprint in terms of environmental impact. In addition to the 50% recycled polyester lining, recycled materials were also used in the inner and outer soles. The removable OrthoLite® insole made from Eco Plush PU foam consists of 25% organic-based castor oil. All in all, they feature well-rounded green performance in manufacturing with the motto: leave no footprint. As a consequence, they also bear the VAUDE Green Shape guarantee.
The TVL Easy make a great companion – both on the way to your adventure or for rejuvenation after you're done. In fact, these shoes actively promote this rejuvenation. They're always right at home whenever an extra pair of comfortable shoes are needed – whether that's in the mountains or on a road bike trip. A feeling almost like barefoot running, just with more protection and comfort.
This makes them the ideal shoes for people who lead an active, sustainable lifestyle. The TVL Easy will be available in stores in women's and men's models (in the colors Pebbles, Eclipse and Iron) starting in Spring 2017.
Product details: Weight (Wo / Men) RRP (in Germany)