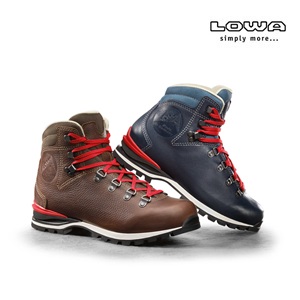 Category: Travel
Sizes: 6 – 13 / Sizes Ws: 3.5-9
Weight per pair (UK 8): 1240 g / Weight per pair Ws: 970 g
TRADITION MEETS MODERN.

The best tradition is one that is forward looking. That's open to new things. That continues to develop and allows innovation.
The concept of tradition is something LOWA has lived since the company was founded in 1923. And the new Heritage Line is all about this appreciation
for tradition. The new WENDELSTEIN MID combines traditional, stylish design with tried-and-trusted shoemaking craftsmanship and modern innovation.
Proof is evident with just one look: The on-trend, simple, clear retro design with metal eyelets and traditional red laces. The former, embossed LOWA logo. The upper, made completely of Terracare leather, made in the German Heinen tannery that is also steeped in tradition. Take a look inside and you continue to be struck with the same impression. With the chrome-free tanned leather lining from the same tannery – one that ensures superior temperature management. Perfection is achieved by the WENDELSTEIN MID with the most state-of-the-art technology and shoemaking craftsmanship. Both the women's and men's models use the high-performance VIBRAM® Mulaz sole, which is the identical version used throughout the entire outdoor boot collection. To guarantee
everyday comfort, LOWA has integrated a perceptibly softer insole.
What of course is true of all LOWA footwear also holds true with these Heritage models: They are made on tried-and-trusted LOWA lasts that guarantee perfect fit. They are also by the way completely manufactured at the Jetzendorf, Germany headquarters. This versatile outdoor boot is thus the perfect blend of tradition and modern expertise. An eye catcher that is ready to go for moderate mountain hikes. And of course catches double takes in the city too. Or, we could just express this with the old LOWA advertising slogan: The outdoor boot with "pfiff".