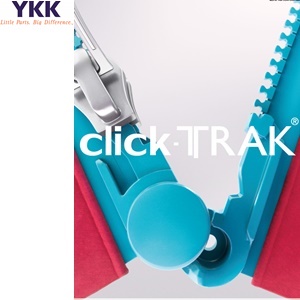 YKK announces the launch of click-TRAK®, a zipper that makes opening and closing operations easier by replacing the insert pin with a snap button that you press together when closing the zipper. The zipper, which has been under development since 2015, was created with the aim of enabling the elderly, people with disabilities, and others who have difficulty using zippers to better enjoy fashion. Additional applications include sportswear and childrenswear, which can take advantage of click-TRAK®'s easy-to-use features.

Features:
• Easy-to-operate
• The open parts automatically rotate and engage when overlapped and can be easily closed by pressing together like a button
Recommended applications:
• Sports and outdoor apparel
• Childrenswear
• Universal fashion (A design that can be used by people with disabilities, the elderly, and people who cannot use ordinary zippers).