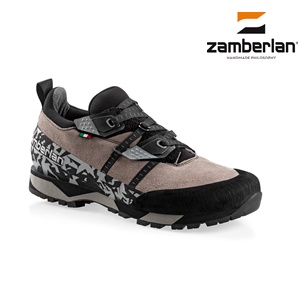 The new Half Dome, stable, precise and light, has been developed to meet the needs of those who look for a product "from the car to the top". Half Dome is an approach shoe with a wrapping and precise fit thanks to the innovative micrometric Velcro fastening, which Zamberlan patented and was first applied to the climbing shoes 080 Rapida.
This fastening system allows the customization of the volumes and tension with a simple movement through the adjustment of the webbing length. The particular construction of the elastic gusset, which is integrated with the collar, contributes to the general comfort. Once you have reached the desired fit, you can remove the excess.
Half Dome, named after one of the most popular walls among climbers, has a high technical content. It is recommended for technical approach, via ferrata, and light hiking, as well as for daily use due to its excellent comfort and flexibility. Half Dome combines comfort and durability and provides excellent grip even on wet surfaces. It is made of soft and durable waterproof suede protected by a 360° rubber rand against abrasion by rocks and gravel. It is equipped with a soft insole for flexibility and the Vibram® Pepe outsole with MEGAGRIP® compound for excellent grip.
BENEFITS:
• Custom fit thanks to the patented lacing system;
• Versatility "from the scrab to the top";
• Anatomical-fit last;
• Waterproofness and breathability;
• Cushioning and torsional rigidity;
• Unparalleled grip.
TECHNICAL DETAILS:

TOMAIA/UPPER: Hydrobloc® Suede
SPESSORE TOMAIA/UPPER THICKNESS: 1,8mm – 2,0mm
FODERA/LINING: –
SOTTOPIEDE/INSOLE: Nylon 1,5 mm
INTERSUOLA/MIDSOLE: EVA
BATTISTRADA/OUTSOLE: Vibram® Pepe with MEGAGRIP® compound
FORMA/LAST: Zamberlan® X-Active Fit
TAGLIA/SIZE: EU 40-48 (c/mezze mis. – incl. Half sizes)
PESO/WEIGHT: 410gr.