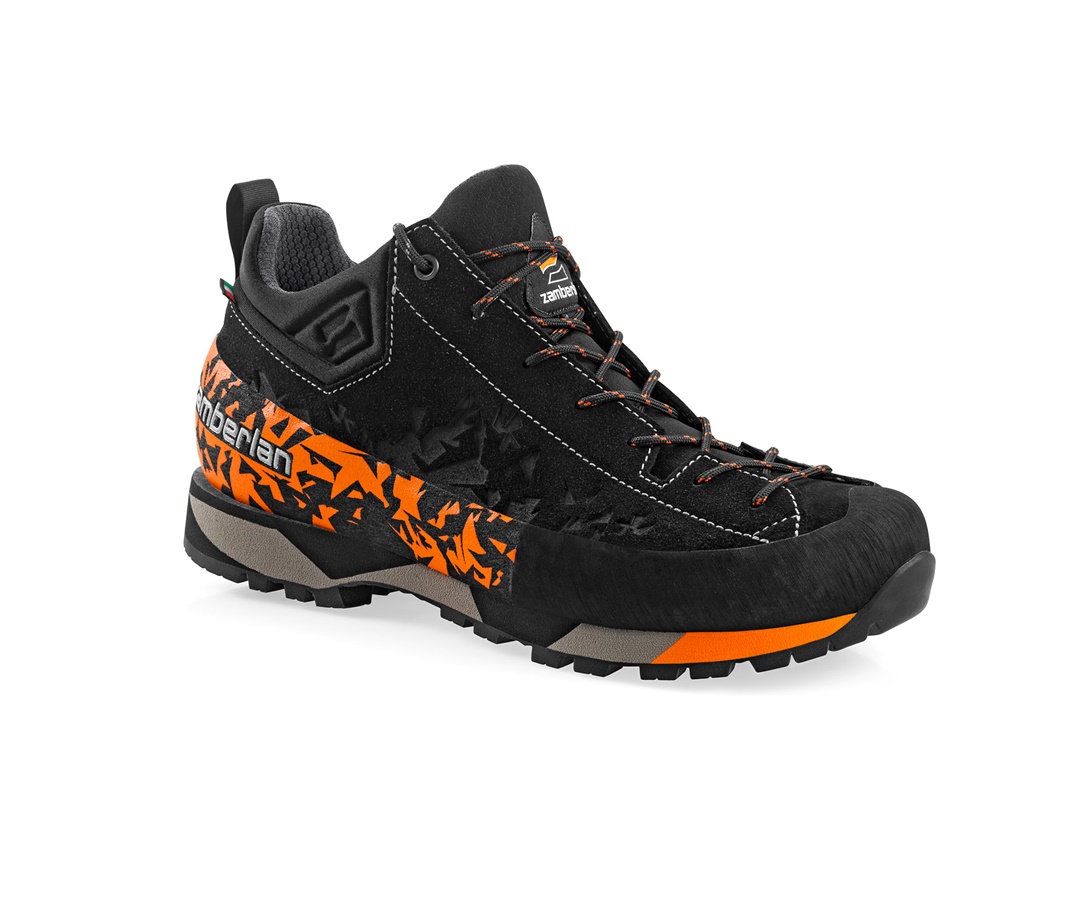 The new Salathé, stable, precise and light, has been developed to meet the needs of those who look for a product "from the scrab to the top". Named after one of the most popular climbing places, it is designed for via ferrata and technical approach, but its extreme comfort and lightness make it suitable for light hiking. Thanks to its special height, named "up-cut", it combines lightness and comfort of low-cut shoes and a the protection of mid-cut boots.
Salathé offers a wrapping and precise fit with the "to toe" lacing and thanks to its anatomical last.
The embossed suede upper is waterproof and protected by a 360° rubber rand to increase resistance to wear and to rubbing against rocks and gravel. Waterproofness is guaranteed by the GORE-TEX extended comfort lining.
The elastic and breathable gusset secures excellent comfort, the preformed collar is made with a new technology that provides support while optimizing the use of material. The microporous midsole in two densities offers shock absorption and torsional rigidity. Its construction gives the shoe cushioning, protection and adherence to the ground. The Vibram® Pepe sole system is made with the MEGAGRIP® compound for greater grip.
BENEFITS:
"Up-cut" upper for lightweight and protection;
Versatility "from the scrab to the top";
Performance fit thanks to the to-toe lacing system;
Anatomical fit;
Great protection thanks to the 360°rubber rand;
Waterproofness and breathability;
Cushioning and torsional rigidity;
Great grip.
TECHNICAL DETAILS:
TOMAIA/UPPER: Hydrobloc® Suede
SPESSORE TOMAIA/UPPER THICKNESS: 1,8mm – 2,0mm
FODERA/LINING: GORE-TEX Extended Comfort
SOTTOPIEDE/INSOLE: Nylon 1,5 mm + PE
INTERSUOLA/MIDSOLE: EVA
BATTISTRADA/OUTSOLE: Vibram® Pepe with MEGAGRIP® compound
FORMA/LAST: Zamberlan® X-Active Fit
TAGLIA/SIZE: EU 40-48 (c/mezze mis. – incl. Half sizes)
PESO/WEIGHT: 445.