After revolutionizing hands-free lighting with patented REACTIVE LIGHTING technology, Petzl goes even further, proposing its newest headlamp, the REACTIK +, connected via Bluetooth® Smart. With the MyPetzl Light app, free for download at the App Store or Google Play, the user can consult and control the lighting performances of his REACTIK + according to the activity, in real time from his mobile device. This way, he can remain 100 % focused on his performance.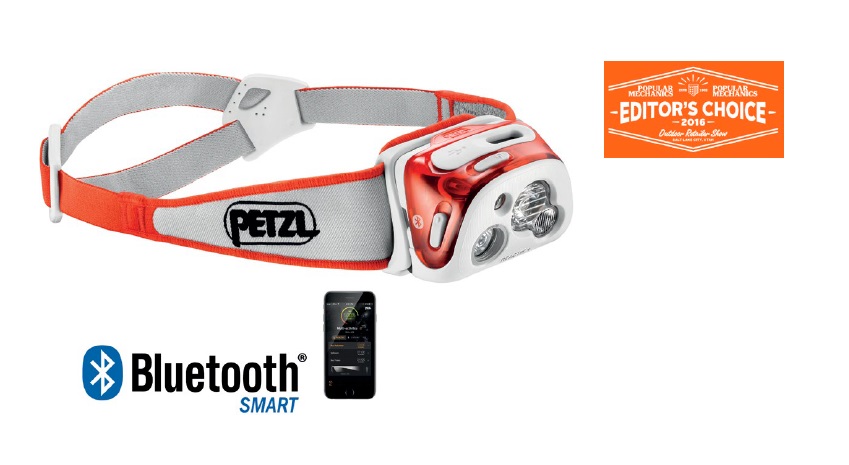 And the light becomes a traveler…
Anywhere and any time, in the mountains, while backpacking or running, the user can, from his smart phone, see the charge level of the REACTIK +, adjust it for the burn time he requires, define or customize its lighting profiles… With the MyPetzl Light app, he not only becomes the true master of the lamp's energy, but he also gains peace of mind and mobility.
Further, featuring 300 lumens of power, REACTIK + offers outdoor enthusiasts true visual comfort, in terms of both lighting power and beam quality. During the activity, with REACTIVE LIGHTING technology, REACTIK + analyzes the ambient light and adjusts brightness instantly to user requirements. Battery life is optimized and the manipulations are reduced to a minimum!
This compact headlamp is easily charged with a USB, a sustainable and economical solution over time.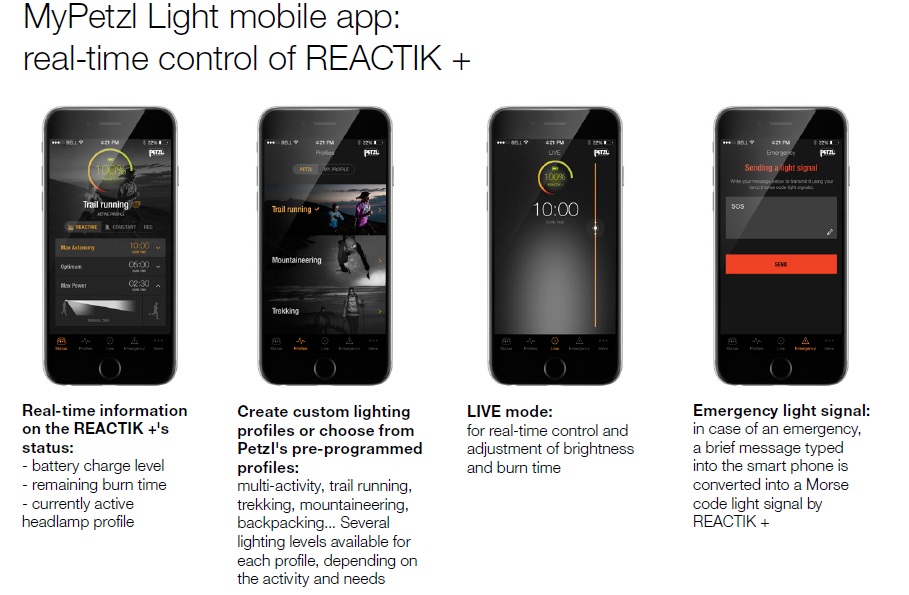 MyPetzl Light specifications
• Functions with Bluetooth® Smart to limit energy consumption of the headlamp battery. The ratio of total energy consumption is at most 0.22 %.
• The lamp can still be used without the app
• Requires iOS 7.1 or later, or Android 4.3 or later
• Available in English, Spanish, German, French, Italian and Japanese.
REACTIK + specifications
• Weight: 115 g
• Beam pattern(s): wide, mixed, focused
• Power: 1800 mAh Lithium-Ion rechargeable battery (included)
• Watertightness: IP X4 (water resistant)
• Color(s): coral, black
Available in the following countries: Austria, Belgium, Bulgaria, Canada, Croatia, Cyprus, Czech Republic, Denmark, Estonia, Finland, France (except New Caledonia and Polynesia), Germany, Greece, Hungary, Iceland, Ireland, Italy, Japan, Latvia, Lithuania, Luxembourg, Malta, Netherlands, Norway, Poland, Portugal, Romania, Slovakia, Slovenia, Spain, Sweden, Switzerland, United Kingdom, United States.
Recommended retail price: 89.95 € (including tax)
Available: June 2016.
INFO: Petzl