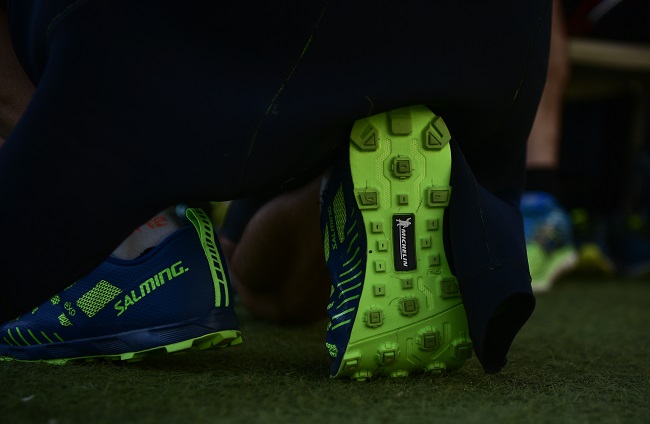 Confidence is key when running in extreme terrain. Salming, a Swedish brand specializing in performance running, has combined in the OT Comp model, the Michelin technical soles with an incredibly light shoe, with a tread that guarantees an exceptional self-cleaning and an impeccable grip on wet and slippery surfaces.
The Salming OT Comp is ideal for disciplines such as swimrunning and orienteering, where the sudden change of terrains and conditions requires a shoe with excellent traction and adaptability.

The Salming OT Comp is super light, weighing only 256 grams (size 7.5UK) and is equipped with the innovative fiber lite solution in the sole, developed by Michelin. Fibres and rubber compound are integrated into the sole, reducing the weight and thickness of the tread, and thus making the entire shoe lighter, while maintaining a high level of flexibility, stability, performance and adaptability to different types of terrain.
The new sole is inspired by two Michelin tyres. The Wild Mud mountain-bike tyre has lugs that feature Michelin's "twisted" design, which untwist when the tire contacts the ground, helping to evacuate mud and optimize adherence. The Starcross 5 motorbike tyre is suitable for all types of terrain and has star-shaped lugs, which provide excellent traction and progressiveness in bends. The same properties are applicable to the sole of this shoe. Underneath the arch support, the tread design ensures stability, control and traction on obstacles.

The Salming OT Comp upper has a lightweight mesh body, which allows for excellent water drainage and breathability – qualities that make it perfect for swimrun and orienteering. RocShield™ reinforcements, which protect the foot and shoe, have been added to the side areas which are more exposed to the wear and tear of rugged terrain.
The Salming Running DNA is represented by the Torsion Guidance System 62/75° and the RunLite compound, features that accommodates for the foot to be able to flex in all the right places and a midsole so thin that the runner can feel the terrain underneath but still with enough cushioning properties to make the run comfortable.
INFO: Michelin Soles