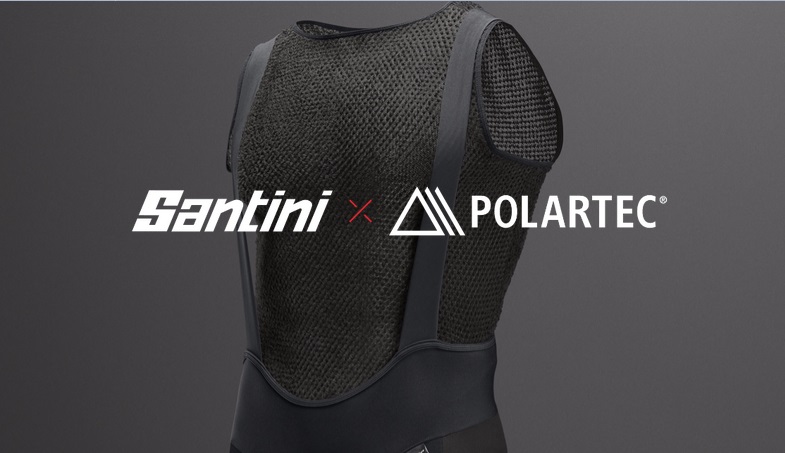 Ingenuity x Innovation
Every Santini garment is offered with four promises: "second-skin" fit, maximum performance, unsurpassed comfort, and quality that lasts a lifetime. Sound familiar? Polartec is a natural partner for this storied Italian producer. After all, we're both hyper-focused on designing for specific end uses and no strangers to meeting the unique needs of cyclists, runners, and triathlon athletes training and competing in dynamic, year-round conditions.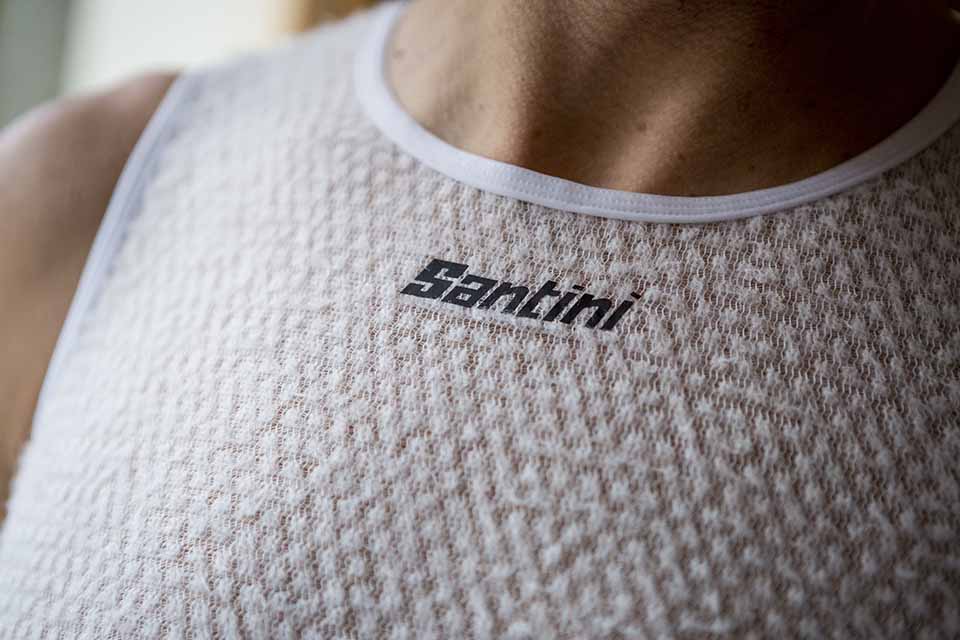 This month we're featuring the innovative ways Santini incorporates three of our fabric platforms into their premium winter cycling garments: Alpha, Power Wool, and Power Shield Pro. Today, we're focusing on Polartec® Alpha® Active Insulation, so keep reading to learn more about this fabric solution, how Santini uses it in their garments, and why this line is a winner of a Polartec Apex Award — an industry benchmark for stylishly designed, on-trend products that push boundaries and unlock the full potential of our fabric technologies.
(Sleeveless Base Layer + Under-Gloves) x Alpha
Staying warm and comfortable while pedalling for miles in the winter presents a unique challenge to cyclists and those who design for them. That's why Santini chose Polartec Alpha for a sleeveless base layer and under-gloves to keep riders insulated and dry no matter what the day has in store.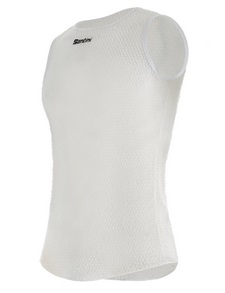 The Santini Alpha Sleeveless Base Layer boasts an advanced, breathable construction that keeps wearers warm while wicking away sweat to maximize comfort. This hard-wearing layer comes in black or white.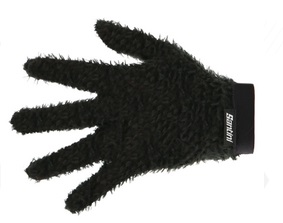 Because the hands are prone to being the coldest part of the body on chilly rides, the Santini Alpha Under-Gloves are designed to easily fit under your gloves to provide a light and breathable extra layer of insulation. Now there's never an excuse to skip a ride.
Alpha up close
Polartec® Alpha® was originally developed for the U.S. Special Forces to provide dynamic insulation in start-stop conditions. Active Insulation is achieved with lofted fibers that are connected to a solid mesh core, allowing for superior air exchange and sustained comfort without shedding layers.
This premium fabric also happens to be inherently hydrophobic, meaning it resists moisture and dries incredibly fast. So even when sweating occurs, it's quickly managed to keep cyclists dry and comfortable throughout the ride.

Santini — Polartec Apex Award winners
In 2019, Santini were big winners at the Apex Awards. Not only did the sleeveless base layer and under-gloves earn an award for their innovative use of Alpha Active Insulation, Santini also won for their Adapt Bib-tights made with Power Wool, and the Vega Multi jacket constructed with Power Shield Pro.
This line clearly earned its place among the 2019 Apex Award winners because it provides exceptional breathability, moisture management, and thermoregulation for dynamic temperature regulation in varying conditions. With this line, Santini solves a unique use case and delivers on its four promises while amplifying the potential of three category-defining Polartec fabric platforms. We couldn't be more proud to innovate with them.
INFO: POLARTEC