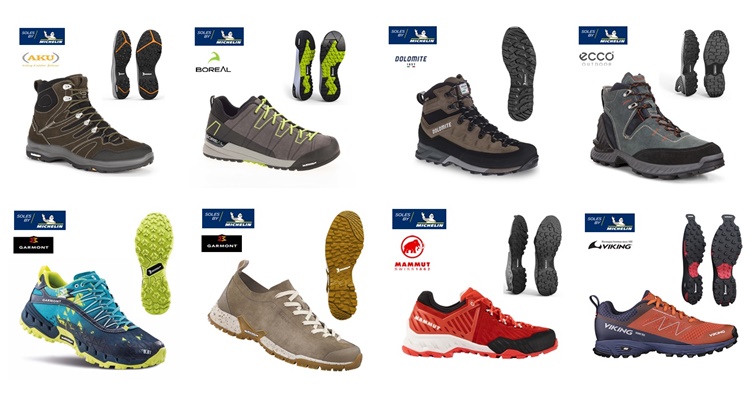 The success of Michelin in the world of technical soles continues. At the largest outdoor fair in Europe, which took place for the first time ever in Munich from 30 June to 3 July, Michelin has been the protagonist alongside Aku, Boreal, Dolomite, ECCO, Garmont, Mammut and Viking who have decided to appoint the French company to develop the soles of their new SS20 collection models.
The Michelin R&D department works differently with each of its brand partners to find customised solutions. The result is footwear which is always new and able to cater to the specific needs for which it was designed. Starting from the performance of one or more tyres from its range, Michelin creates specific and exclusive tread designs and compounds which allow, depending on the use for which it is intended, the right mix of comfort, grip and durability. Each sole, therefore, is unique, in line with the design and technical needs of the footwear partner.
"OutDoor by ISPO is the summer season's major showcase" says Andrea de Pascale, Chief Commercial Officer for JV International, the strategic partner chosen by Michelin for the development of technical soles worldwide.
"We have come to this 2019 appointment to show the world of retail and professionals that Michelin soles, designed to touch every aspect of outdoor sports, represent an added value to the footwear of these major brands. "Experience the innovation": this is what we want our brands and consumers to feel and the proof of the excellence and professionalism of our project comes from our brand partners who, season after season, continue to choose Michelin as their partner. This is only the start of an already successful course of action and one which will continue to offer our partners and consumers increasingly innovative and high-performance technologies and materials".
Aku, Boreal, Dolomite, ECCO, Garmont, Mammut and Viking new products for S20
INFO: Soles by Michelin