From today on, etnies, the pioneering brand in skateboarding footwear, boasts one of the most durable skate shoes on the market. Recent tests show the new etnies Marana, equipped with MICHELIN outsoles, is three times more durable than the original.
Pro skater Chris Joslin, who contributed firsthand to the development of the project, says, "I back the etnies Marana super hard! They're super padded for impact protection and comfy with good board feel. It's just an all around great shoe!"
Until now, skaters were finding that the uppers of the original Marana shoe, on the market for four years, were lasting longer than the sole, a constant issue for a skateboard shoe that needs to withstand continuous abrasion.
To solve this challenge, etnies joined forces with the designers of Michelin Technical Soles to translate the performance and durability of tires – in this case, the Michelin rally racing PC00 – into long-lasting, light and slip-resistant footwear, which offer unmatched durability, precision, enhanced adherence (grip) and maximum flexibility for a superior board feel that skateboarders desire.
Internal lab testing and field tests determined that the new and improved etnies Marana with Michelin outsole is three times more durable than the original.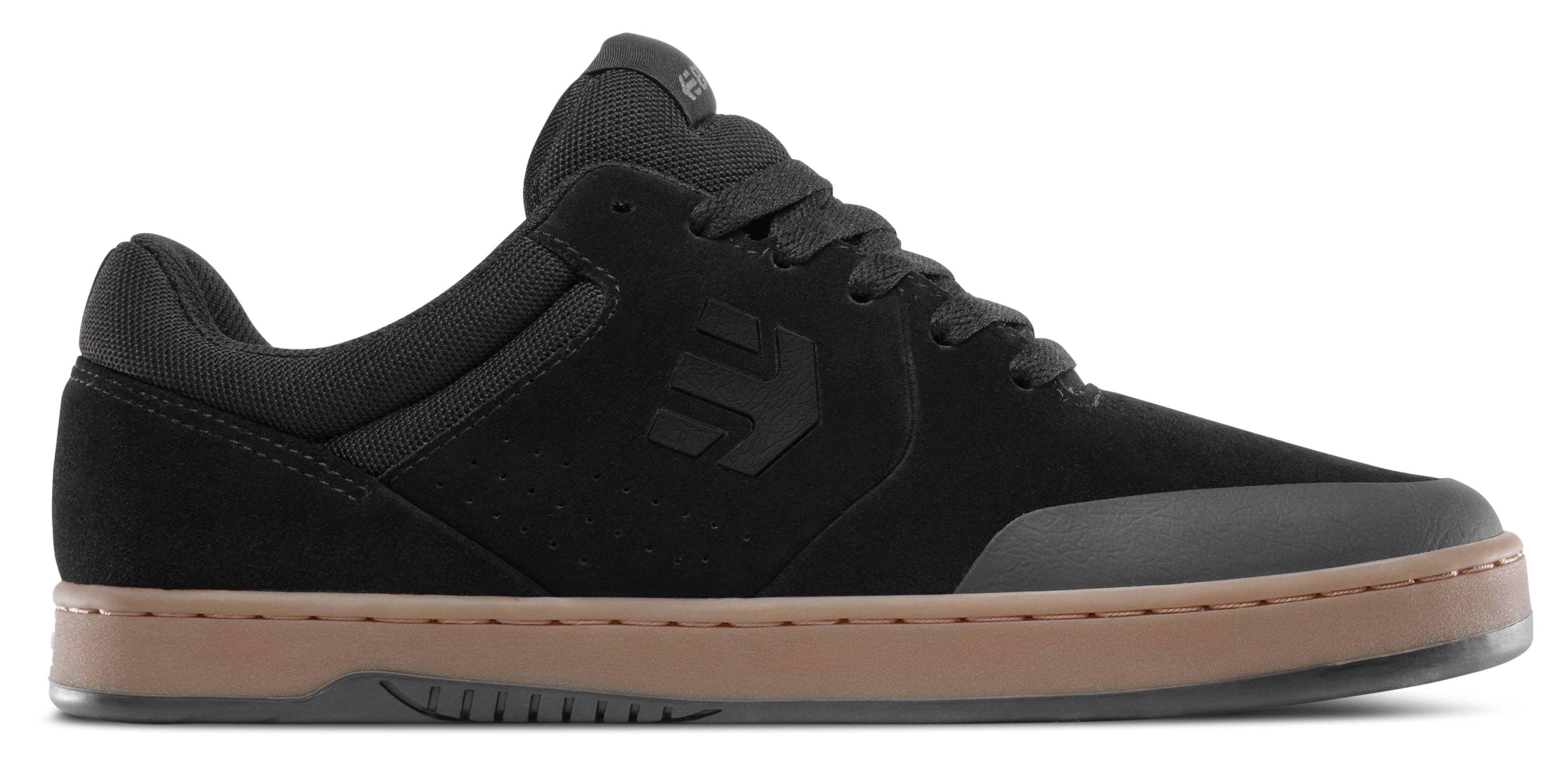 MICHELIN Marana outsole Works as Hard as a Skateboarder. The Michelin technical outsole is a unique and advanced mix of tread design and specially formulated compounds that perfectly respond to the needs of the most demanding skateboarders.
Michelin Outdoor Compound (OC) is a premium rubber compound that provides greater durability on uneven terrain, strength for stability, and good abrasion resistance.
The outsole features large tread sculptures for maximum durability, interlock design for better adherence, especially in dusty conditions, multiple ­flex lines for board control and reactivity, deep grooves for weight reduction, and a high contact surface for support and shock absorption to protect against harsh landings. The MICHELIN outsole also features cupsole construction, which creates a thicker barrier between the skater and the board.
The upper provides enhanced durability thanks to a fused on, injected rubber toe cap. For maximum comfort, the upper also features a padded tongue and collar with hidden lace loops, and an STI Evolution Foam midsole for impact resistance.
Together, these features make the new Marana the toughest no-compromise high performance skate shoe in the industry.
Available in men's U.S. sizes 5-14, the Marana, with MICHELIN technical outsole for advanced ground control, is now available globally for approximately $75 (€84.95), starting in July 2017 (no change in the retail price from the original).
About etnies: Built by skateboarding since 1986, etnies is the first skateboarder-owned and operated global action sports footwear and apparel company. etnies not only pushed the envelope by creating the first pro model skate shoe, but it pioneered technological advances and changed the face of skateboard footwear forever. Today etnies' vision, led by owner and skateboarder Pierre Andre Senizergues, is to remain the leading skateboard footwear company committed to creating innovative products that provide the most style, comfort and protection possible. etnies stays true to its roots by sponsoring a world class team of skateboarding, surfing and BMX riders, and continues its dedication by giving back to each of these communities. For additional information, visit etnies.com.
INFO: MICHELIN Technical Soles