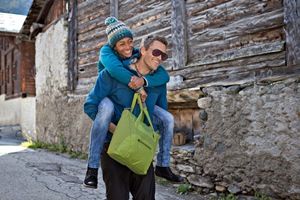 Starting August 2013, VAUDE is introducing a series of new bags to the market in the very successful Tecotorial Collection. Five bags that feature a streamlined, sporty design and are perfect for everyday use.
As their predecessors (backpacks and travel accessories), these bags feature numerous practical details and a streamlined design. The Tecoleo L was chosen as the highlight of the collection: a shoulder bag with safety light attachment and subtly integrated reflective elements for enhanced safety, even in low light conditions. Another practical feature, especially when Mother Nature opens her faucets, is the raincover integrated in the bottom of the bag that can be pulled out when needed. A special attachment for a yoga or beach mat makes the decision to "chill" that much easier, or it can be used to carry a jacket. A padded back enhances the comfort factor, as do the Slide Stop shoulder straps and hipbelt. For those that go for the minimalistic look, both straps and belt can be detached.
All bag models come in five stylish colors, including the small shoulder bag (Tecoleo S), the shopper (Tecosia) and the generously sized 20 liter office bag (Tecoba).
More info:
VAUDE