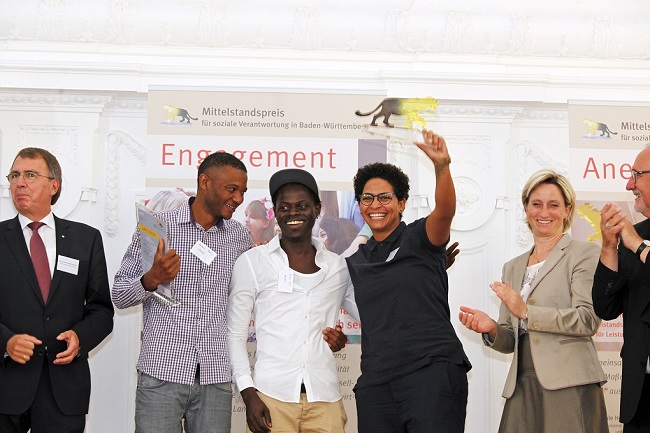 On July 5, 2017 VAUDE was honored for its exemplary social commitment with the Lea Medium-Sized Company Award for Social Responsibility in Baden Wuerttemberg at the New Palace in Stuttgart. This prestigious award stands for "Performance, Commitment, Appreciation" in German and VAUDE won 1st place in Category 3 for companies with 150 – 500 employees. For years this outdoor outfitter from Tettnang has been working passionately on refugee integration in the workforce. Services have included job application training sessions, workshops, sports courses and individualized assistance in finding housing and interactions with authorities. VAUDE has currently provided permanent employment for nine refugees from seven countries, two of whom accepted the "Lea"-Mittelstandspreis at the award ceremony; Buba Njie and Abdoulie Barry, both from Gambia, traveled to Stuttgart together with Miriam Schilling, Head of Human Resources at VAUDE, Lisa Fiedler, Corporate Development & CSR at VAUDE and Sarra Braa, VAUDE Manufaktur.
"This award is a tremendous sign of appreciation for our commitment. Our desire is that the people who work for us and are well integrated into the workforce will be allowed to stay in the country. Three of our employees have received a notice of rejection in their asylum procedures and are currently in litigation," said Lisa Fiedler.
Facilitating social entry for refugees and providing career prospects – with this approach VAUDE was able to convince the "Lea"-Mittelstandspreis jury. The family-owned company from Tettnang prevailed among more than 300 entries and was honored with the coveted "Lea"-Mittelstandspreis Lion in Category 3: 150 – 500 employees. The award has been presented annually since 2007 by the German charitable organizations, Diakonie and Caritas, along with the Ministry of Economy, Labor and Housing in Baden-Wuerttemberg to small and medium-sized companies who are contributing authentically to the good of society.
Creating career prospects for refugees
VAUDE has been actively involved with refugees since 2015. Its initiatives have been strongly supported by employees who formed a "Helferkreis" – a grassroots assistance group. Initially, the company's Helferkreis provided support for regional projects as well as other refugee projects in Germany and abroad with product donations. At the same time, VAUDE opened its Occupational Health Management Program sports courses to refugees. To help with entering the workforce, VAUDE also started offering sewing workshops in collaboration with the Asylum Network Tettnang in the summer of 2016. Workshop participants manufactured sustainable bags using remnant materials from the VAUDE Manufaktur. Participants gained familiarity with the job duties of an industrial sewing machinist and gained an insight into the daily routine of working in Germany. The proceeds of these bags flowed back as a donation for a joint project with the Asylum Network. In October 2016 VAUDE organized an Open Day for refugees during which they could get information on career opportunities at VAUDE and could participate in job training. This year VAUDE began offering German courses for refugee employees free of charge to facilitate integration on a linguistic and cultural level.
Opportunities from a business perspective
VAUDE's activism also provides an opportunity for the company: the chance to attract new skilled workers to professions for which there is no longer adequate training in Germany – a classic win-win situation that benefits both sides. "It is particularly difficult to find new employees for our Manufaktur production facility. Because we are seeing strong growth with our "Made in Germany" products and want to expand production further, we launched an attempt to work with refugees, who receive basic training with us. It has been a good experience." added Miriam Schilling.
The "Lea"-Mittelstandspreis is designed to strengthen companies in Baden-Württemberg in their social commitment. "It is an authentic expression of solidarity when medium-sized companies in Germany's Southwest advocate for people who have difficulties in society and in the labor market. Their efforts can inspire and encourage participation and imitation" explained Bishop Gebhart Fürst at the award ceremony.
INFO: VAUDE