On Monday 16th April, we heard the news that Benedikt Böhm, extreme ski mountaineer and member of the Dynafit team ski club, had returned from Iran after cycling, running, hiking and skiing up Mount Damavand in an incredible 14 hours and 20 minutes all whilst kitted out in Dynafit's new spring/summer 2018 range which uses Polartec Alpha active insulation fabric.
A real achievement, Böhm set off at 1:03 am before biking 120 km up a 3,020 m climb followed by running 4.7 km and hiking and skiing for a further 3.3 km after which he reached the summit. In total Böhm travelled 130 km and climbed 5,970 vertical metres in less than 15 hours.
Böhm, knowing he would need a jacket that offers warmth without weight, wind resistance and also something highly breathable for his expedition, opted for the Dynafit Elevation Polartec Alpha jacket which features Polartec Alpha active insulation; a fabric technology that offers superior warmth whilst exchanging traditional wet and heavy into dry and light.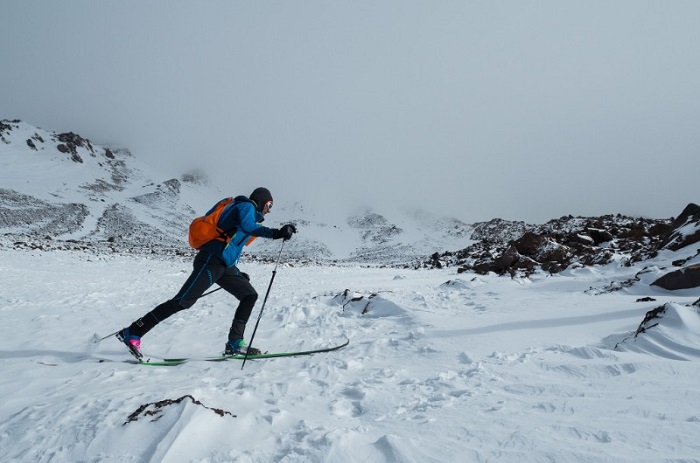 When shedding layers isn't an option, Polartec Alpha places patented low-density fibres between air permeable woven layers to create an efficient fabric for regulating warmth and transferring moisture. Together, this increases thermal adaptability in changing conditions. A compressible fabric, Polartec Alpha can be easily layered with other materials and stored in small spaces.
By allowing vapour to move freely through the fabric, it increases the air exchange and drastically decreases drying times subsequently reducing discomfort and saturation. What's more, its woven construction means that more open weave outer fabrics can be used, enhancing a product's breathability. Additional durable water repellency in the outer layers gives Polartec Alpha the ability to perform in even the most challenging of environments.
Böhm, who is also the international sales manager of Dynafit, was extremely impressed with how well Polartec's Alpha fabric functioned, a technology that was originally created for use by the US Special Forces.
INFO: Polartec