The Masters RENTAL line aims to maintain the quality that distinguishes the brand, proposing two models with different approaches, but with the sole objective of respecting the expectations of the customers, those of the Rental Service operators.
Thus, in detail, the models Carbon RTL (in the Senior and Junior versions) and Alu Protek RTL (in the Senior version) guarantee the resistance necessary to face the subject to usury they are exposed to and the ease of recognition of the measurements with colored and well-designed silk-screen printing distinct by measure.
The new Protek Technology is innovative and will find your approval for sure!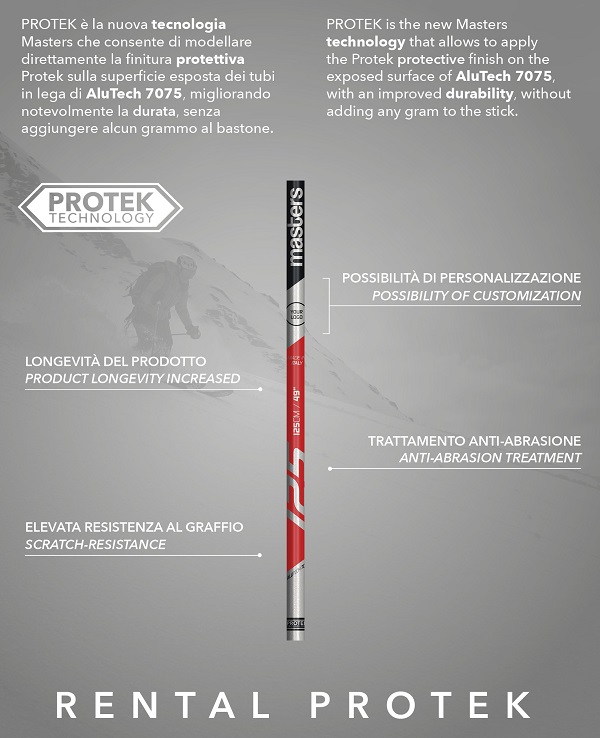 In the choice's process is important to understand the different between the shafts, because every material has different specifics to respond to different needs: that's why we always put our attention to the aluminum alloy or carbon fiber we select for our products.
Full carbon: carbon tubes are made with a high percentage of carbon instead of resin and it's tightly texture along the section is easily visible to the naked eye. Carbon fiber permits a perfect balance between best swing and lightweight for a professional use of the poles. Carbon shafts are checked and teste internally our Company to guarantee an extreme use of our poles.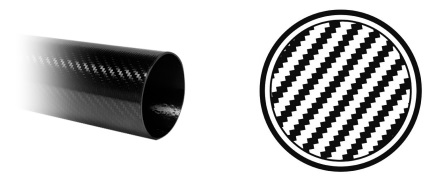 Slim AluTech 7075: the most valuable of the aluminum alloys on the market, so much so that it can be used in aviation for its excellent mechanical resistance. The different ticknesses of the Slim AluTech 7075 tube enable us to offer extremely small diater poles, while guaranteeing their solidity and quality.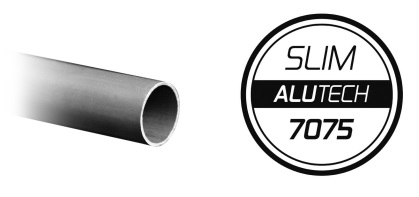 AluTech 7075 Protek: an innovative processing of the aluminum ally par excellence to make it even more scratch-resistant and ensure its appearance lasts long, and to enhance its technical qualities.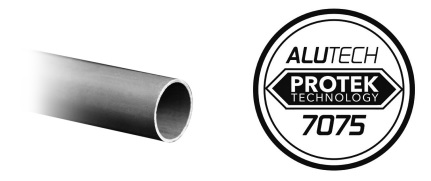 AluTech 7075: The aluminum and zinc alloy par excellence: lightweight and resistant to impacts, stress and torsion. Its trade name is Ergal: the perfect aluminum alloy for withstanding hot and cold temperature changes, making its use particularly popular in the aeronautical industry, especially for structural parts.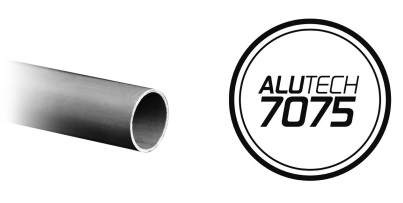 Alu 5083: The 5083 aluminum alloy is mainly composed of aluminum, magnesium, manganese, iron and silicon: these elements ensure sound material performances at low and ambient temperatures and excellent resistance to corrosion and oxidation, while maintaining sound mechanical properties.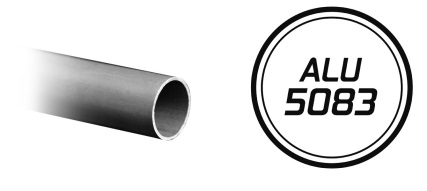 Carbon Fiber Reinforced: an aggregate of carbon fiber and glass fiber to ensure strength and lightness: the right balance for quality poles, meeting technical and economic expectations.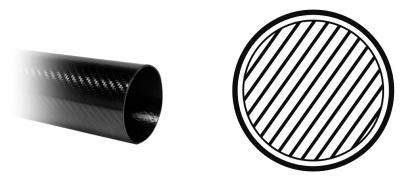 INFO: Masters