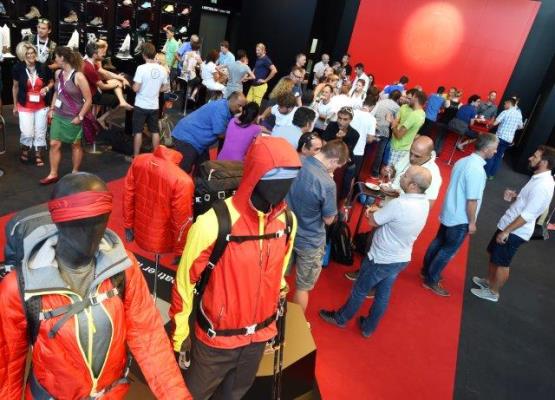 Due to its comprehensive overview of the market and strong attendance by all important decision makers, the OutDoor has confirmed its role as the outdoor industry's leading international trade fair. 21,464 trade visitors (2014: 21,912) from 85 countries attended the 22nd edition of the show, which ended on Saturday after four hot summer days.
"Once again, the OutDoor 2015 was the perfect opportunity to showcase new innovations and celebrate that legendary outdoor industry spirit, both inside and outside the halls," said a happy Klaus Wellmann, CEO Messe Friedrichshafen, at the end of the show. The European Outdoor Group (EOG) was also pleased. General Secretary, Mark Held summarised, "There was a great and very positive atmosphere at OutDoor this year. At a time when competition is more intense than ever, exhibitors and visitors at the show were clearly working hard to ensure they are ahead of the game in capitalizing on emerging trends and introducing relevant new products and sub-categories to a rapidly evolving market."

Stefan Reisinger Head of OutDoor, was also upbeat, "The new schedule from Wednesday to Saturday further reinforced the business nature of the show. In addition, visitor numbers were particularly well distributed over the first three days. It's clear that this coming together at Lake Constance is especially important, especially in challenging economic periods." Mammut CEO Rolf Schmid commented, "These are exciting times. Over the past twelve months the outdoor industry has done more than it has in the last twelve years. Given these significant developments, the OutDoor in Friedrichshafen is the ideal venue to meet with all important colleagues and partners to sit down at the same table and discuss, scrutinize and confirm appropriate strategies."
"Hot, but happy!" was how Alex Koska, Vice President Global Sales Fenix Outdoor group, summed things up. In all, 940 exhibitors from 41 countries presented the latest outdoor products and innovations over the entire Friedrichshafen trade fair grounds. Everything was on show – from waterproof sleeping bags to ultra-lightweight functional apparel, luxurious tents and heated gloves. The organizers were delighted to see greater international attendance with an increase in visitors from France and the United Kingdom, and also from outside Europe, including China and Australia. 1 052 journalists from 29 countries came to Lake Constance, to report on the OutDoor.
The new hall plan was well received by exhibitors. Arne Arens, General Manager of US manufacturer The North Face explained, "We had a great time at the show and are especially pleased to have been able to create a premium experience to showcase the new Summit Series collection. Our new location in the Rothaus Hall/A1 provided a seamless transition for our customers moving smoothly between the main booth and the Summit Series site."
Icebreaker, were also delighted with how things went, as Peter Ottervanger General Manager Europe made clear, "It was an excellent show. We've seen our major customers, had very good meetings and response with the line. We were really busy and had a very successful trade show. We're super proud of the Gold Award that we won with the Kala Dress. It really helps us to show Icebreaker's technical development. Definitely a great achievement to get that prize."
The supporting programme of more than 100 conferences, seminars and workshops further illustrated the importance of the OutDoor 2015. "These presentations and seminars were held by international experts. As such, they act as a meeting point for industry representatives from all sections of the outdoor industry," said OutDoor project manager Dirk Heidrich. In addition, the Trend Show and Paddle Days also went well.
According to a trade visitor survey, 88 per cent of guests see a visit to the trade show at Lake Constance as important or very important. Regarding the economic situation of the outdoor industry, 48 per cent of visitors described it as on the increase, while 39 per cent felt it remained unchanged. 88 per cent of visitors confirmed that they plan to attend the 23rd OutDoor next year. This takes place from July 13 to 16, 2016.
For more information and images visit www.outdoor-show.com and www.facebook.com/OutDoor.Show