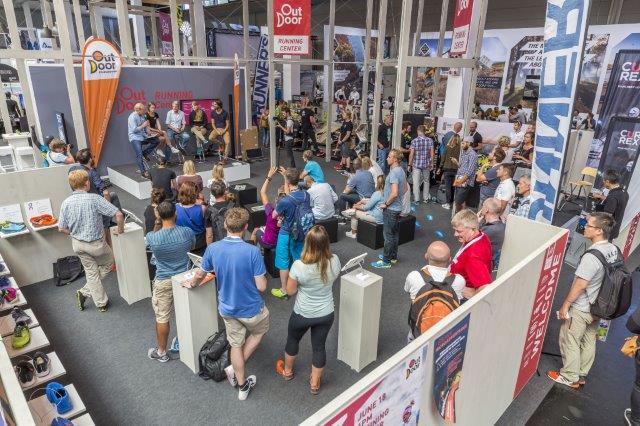 Friedrichshafen – Running has long been part of the OutDoor. Last year in 2017, the leading trade show tore down the barriers between running and trail running with its "Running Center". The success of the OutDoor Plus première is helping to pave the way for the next anniversary edition of the show, from 17 – 20 June 2018, where there will be an even greater focus on the running sector.
"Last year's OutDoor demonstrated that running and outdoor combine well and reach new active target groups. We want to further this synergy in 2018, by further strengthening the running theme," explains Stefan Reisinger, Head of OutDoor.
The presentation of running-related issues at the trade fair, the large of number of exhibitors and the positive response from visitors show just how much dynamism there is in the running industry. Thorsten Dürr, Sales Representative from Swiss running sports specialists ON, was very positive about his brand's first appearance at OutDoor: "We hoped to be able to raise our brand recognition in the outdoor sector – and it worked. We welcomed large numbers of visitors from all over the world – including retailers who were not familiar with ON." Jörg Seifert, Managing Director Lauf-Profis Sport GmbH said, "The OutDoor show has successfully established itself as part of the running sports market. Everyone interested in, and looking for inspiration in outdoor sports and especially trail running should be here."
At OutDoor 2018, the Running Center will again serve as a central information platform and attractive exhibition area for international running experts. There is a specially-created market place to showcase all the latest trends. In addition, a community area, supporting events, product testing and a Walk of Fame exhibition will offer plenty of room for meetings, product presentations and workshops, to bring sport and business together. The OutDoor Run & Trail Summit, which attracted over one hundred visitors at its première last year will also take place again. Runner's World editor and organiser Urs Weber announces: "We will be bringing together the most important media representatives, manufacturers and industry representatives around the table to create a diverse, information and discussion forum on the latest trends in the running industry."
Next year, the 25th anniversary edition of the OutDoor takes place from Sunday 17 to Wednesday 20 June 2018.
For more information, visit: www.outdoor-show.com.