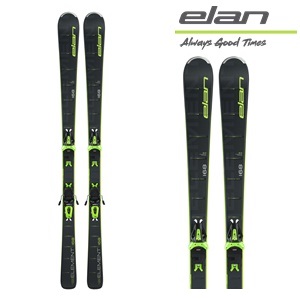 ALL MOUNTAIN ELEMENT
At Elan, skiing is a lifestyle. Whether you only go once a year or aspire to summit the highest peaks, it's all about experiencing the good times with friends and family. The spirit of our brand is inspired by the purest form of winter joy from powder days to carving perfect corduroy, to smiling in the sunshine on the lift with friends to toasting a day shared on the slopes together at apres. Skiing is made up of countless priceless moments. In effort to harmonize these moments with the feelings and motion of skiing, Elan developed a brand new category designed to make good skiers and good times, even better. Elan Element skis simplify every turn with balance and control. When speed and skill progresses, the Groove Tech, Parabolic Rocker and Power Shell technologies are the perfect blend to boost your confidence while providing balance, control and ease.
GROOVE TECHNOLOGY
Always in balance always in control.
Element skis make good skiers better by providing a stable skiing platform offering a higher degree of forgiveness that brings the skier into a balanced position for an easier and better experience. Element Skis are equipped with Groove tech that ensures balance and control in every turn. The Power shell provides stability at speed; making them the perfect choice for skiers of all levels. While the Power shell provides stability, Parabolic rocker makes easy turn initiation, that allows fast progression.
Love at first carve
The Element skis will boost your confidence everyday on snow. They bring harmony to the skiing experience, with a constant source of balance and control to link turns all day long. Equipped with a Parabolic Rocker profile, the Element skis are enhanced with Groove Tech and a Power Shell to provide the confidence-learning skiers need to go faster and take on more challenging terrain.
CODE: ABMEVL19
PROFILE: Parabolic Rocker
TECHNOLOGY: Groove Technology, Power Shell, Dual Woodcore, Fibreglass
GEOMETRY: 127/76/102
LENGTH RADIUS: 144(10.6), 152(12.0), 160(13.5), 168(15.2), 176(16.9)
SYSTEM/PLATE: Light Shift
BINDING: EL 10.0 SHIFT GW BLK/GRN.