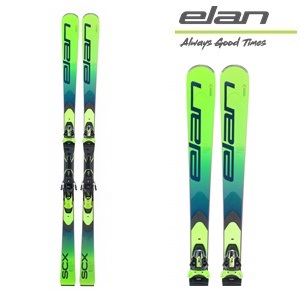 ELAN SCX Fusion X Winter 2020.21
Elan leverages the brand's racing DNA to introduce a hybrid multi-turn ski, the new Elan SCX Fusion X, designed to master the crossover between short and long turns with precision, ease and perfection for the most demanding skiers.
For those who seek nothing but the highest level of perfection when it comes to making short slalom turns to long fast turns, the Elan SCX is ready for any combination of turns, at any speed.
The skis' Arrow Technology combined with an aggressive camber profile, RST sidewalls, double titanium layer and the new R² FRAME Woodcore cumulates into a precision ski that will bring your skiing to the next level. The Power Rebound System integrated into the Fusion bindings is a leaf-spring mechanism with a cambered carbon plate and extended lifter to provide additional rebound at the end of every turn.
The Elan SCX is the hybrid multiturn ski that the fast, versatile, performance-driven skier has been waiting for, not limiting them to one type of turn, but opens up to whatever turn shape they desire.
Multiturn Hybrid
Built with race DNA, this ski crosses over between long and short turns, allowing you to choose your turn shape with perfection.
CODE: AAJGNZ20
PROFILE: Camber
TECHNOLOGY: Arrow Technology, RST Sidewall, R2 Frame Woodcore, Dual Ti , Power Rebound System
GEOMETRY: 113/67/100
LENGTH RADIUS: 168 (15.1), 174 (15.9), 180 (16.7)
SYSTEM/PLATE: Fusion X + Arrow Carbon Plate
BINDING: EMX 12.0 GW FUSION X BLK/GRN.