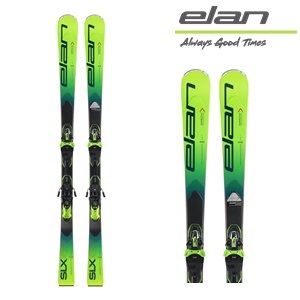 RACE PRECISION
The Race line represents Elan's lifeblood. These skis are intended for the most demanding skiers. They are built for skiers whose expertise is already just about perfect, skiers who know what they want from a ski. Skis belonging to the Race class are uncompromising arrows. Regardless of whether you choose skis for ski cross, slalom or grand slalom, you will always get the highest possible level of ski proficiency out of them. Elan race skis now have a brand new body shape and identity. A synonym for speed, strength and power is the arrow. Arrow technology now drives the Elan Race collection and improves performance. The skis are also decked out in new sporty colors, and Elan Racing Green now comes in an even more poisonous shade. The Race line is made up of numerous models intended for both professional competitors and excellent recreational skiers.
ARROW TECHNOLOGY
Power & control to take charge.
Arrow technology is the utilization of strategically shaped carbon plates and titanium structural layers in the ski that work in harmony to deliver lightning quick response with world-class precision and accuracy. A cambered carbon plate is fixed to the ski and acts as a booster that generates power to the tip. An arrow shaped titanium layer gathers and transfers this energy simultaneously which translates into instant superior edge pressure.
Powered agility
Explode from one quick turn to the next with a ferociousness like never before. The SLX Fusion redefines "high energy" as this ski packs a punch from tip to tail. Go fast, keep it tight – always good times!
CODE: AAKEYG19
PROFILE: Arrow Rocker
TECHNOLOGY: Arrow Technology, RST Sidewall, Response Frame Woodcore, Dual Ti, NanoTech running base
GEOMETRY: 121/68/104
LENGTH RADIUS: 155(11.0), 160(12.0), 165(12.8), 170(13.5)
SYSTEM/PLATE: Fusion X + Arrow Carbon Plate
BINDING: EMX 12.0 GW Fusion X BLK/GRN.