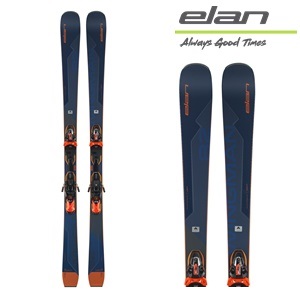 ALL MOUNTAIN WINGMAN
The Wingman series fuses Elan's award-winning technologies with a fresh take on all-mountain skiing. Built to enhance the energy of the all-mountain skier in any condition and terrain, the Wingman always has your back. As the closest bridge to the Ripstick collection, the Wingman is built with the next evolution of Elan's modern asymmetrical ski design, Amphibio Tech with Truline influencing the profile and construction of dedicated right and left skis to make the perfect turn.
AMPHIBIO TRULINE TECHNOLOGY
Perfection inside and out.
Amphibio Truline elevates the asymmetrical ski design to the next dimension by strategically locating materials over the edges of the skis. Structural material is placed over the full length of the inside ski edge, providing more stability to power the turn – while less material is applied over the outside edge, resulting in a smooth and easy perfect turn.
Piste Superior
A perfect companion to take anywhere on the mountain, the Wingman 82 CTi is a dynamic ski that boosts power into every turn and finishes smooth to keep you going run after run.
CODE: ABBEWA19, ABBEWD19 (Flat)
PROFILE: Amphibio
TECHNOLOGY: TruLine Technology, SST Sidewall, TubeLite Woodcore, Carbon Rods, Mono Ti
GEOMETRY: 129/82/112
LENGTH RADIUS: 160(12.0), 166(13.1), 172(14.3), 178(15.5), 184(16.7)
SYSTEM/PLATE: Fusion X / Flat
BINDING: EMX 12.0 GW Fusion X BLK/ORG, ATTACK2 13 AT W_O BRAKE.