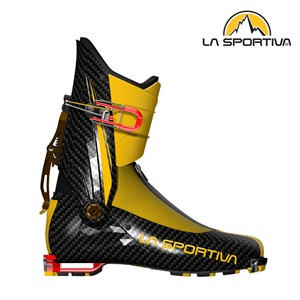 STRATOS V is the fi fth generation of the most famous full-carbon boot in its category and the most advanced and light Ski-mountaineering race boot available on the market today, developed in collaboration with current World Champion Michele Boscacci. The innovative bootie allows for customization of the fi t thanks to the exclusive Pillow-Tech technology: an infl atable air pad that allows regulation of the volumes inside the shell. The innovative CavoBike Stratos lever allows the cuff to be completely released from the shell thus avoiding any impediment in Walk mode. Geometry and carbon lamination of the shell and cuff are designed to minimize weight and volume: the new tapered shape thus obtained is extremely compact, direct and precise on the ski, allowing maximum control of movements and a perfect transmission of power. Reinforcement ribs and bullet-proof inserts reduce the vibrations of the shell to a minimum for highperformance skiing. The super compact Spur-Heel Construction™ provides added strength, and leaves the heel free for compatibility with all types of crampons. The rear hooking system in polymeric material in the characteristic red colour, protects the shell from impact while walking. Stratos V: V for Victory.
Plus:
Shell and Cuff: Carbon fi bre reinforced bullet-proof anti-breakage material and reinforcing ribs
Locking retention system with internal strap and adjustable tension
Shoeller® stretch fabric: waterproof, high abrasion resistance Gaiter
Rear release device consisting in an Ergal lever mechanically operated by the "Stratos CavoBike" (patented): allowing total release of the cuff ensuring maximum freedom of movement in walk mode
Closure lever with dynamic cable
Ergonomic and preloaded front closing fl ap
Bushings with wear resistant system that eliminates the friction between the shell and the cuff
Protective polymer crampon attachment shank
Spur-Heel Construction™: compact heel for crampon attachment
Front and rear hook compatible with all types of binding
Vibram® Litebase Sole with lugs that are compatible with the new ISMF standards
S4 Insert™: patented front plate in collaboration with SkiTrab which facilitates stepping into the ski binding and ensures stability and greater safety
Stratos V liner: two piece liner with upper part in Softech foam for maximum confort and support and a removable lover section for ease of fi t and quick drying.
Tech Info:
COLOR:  carbon/yellow
SHELL:  Carbon fi bre reinforced bullet-proof anti-breakage material and reinforcing ribs
RANGE OF MOTION: 80°
BINDING COMPATIBILITY: Tech
WEIGHT (1/2 pair size 27): 540g
SIZES: from 24 to 29,5 (mondo point).