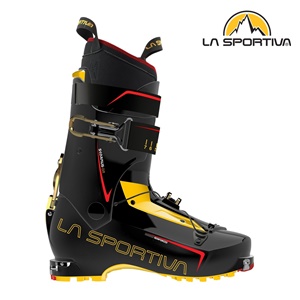 Skorpius CR is the two hook Ski-mountaineering boot designed to satisfy the most demanding Ski-mountaineer. The Carbon- Reinforced shell integrates the carbon fi bres with plastic materials to obtain a solid, safe and responsive downhill ski boot. Its versatility is highlighted by the triple compatibility with Tour bindings, Trab TR2 safety bindings and mini tech bindings. The boot is equipped with a Pebax® Rnew® bio-based shell and cuff with ergonomic support at the back and the "EASY 2 WEAR" system with a quick lock / release upper lever and a strap for micro regulation. The new patented Ski / Walk "SWING-LOCK Closure System" Ski / Walk mechanism protects mechanic parts from wear and impact and ensures a fast and secure closure of the boot. The EZ Flex™ Overlap Tongue allows for exceptional freedom of movement thanks to the hinge between the upper and lower part of the boot allowing for wider ankle movement. The patented, compact and precise Spider Buckle EVO™ closure system guarantees comfortable volumes at the bottom part of the boot and allows for perfect distribution of tension. The La Sportiva Grip Guard™ sole guarantees excellent performance over time.
Plus:
Pebax®-Shell™: made in superlight, reinforced carbon Pebax® Rnew® bio-based to reduce width and weight of the boot without compromising the solid structure. Snug fi tting and high performing. This boot offers exceptional resistance to low temperatures and a perfect fl ex
Pebax®-Cuff: reinforced carbon Pebax® Rnew® bio-based cuff with an exceptional forward lean of 68°, allowing for maximum mobility in order to move quickly and safety in all situations. The removable spoiler allows for further personalization of the forward lean
EZ Flex™ Overlap Tongue: a Pebax® Rnew® bio-based tongue with a folding joint between the top and the bottom for a personalized fi t. It allows freedom of movement for the ankle both on steep scope and more gentle ground
2BT Tech Last™: the anatomical last offers perfect fi t and comfort
2BT Tech Heel™: optimization of volumes on the heel for a precise and comfortable fit
WarmSole™ Insert: insulating polyurethane removable insole. This insole avoids direct contact of the foot with the shell, allowing for greater comfort and perfect thermal insulation. Warmsole™ makes the La Sportiva 2 hook models the best on the market
Progressive Grade System™: quick inclination adjustment system with height adjustable spoiler inser
SWING-LOCK Closure System™: Rear Ski / Walk hinge system: avoids the exposure to impact of mechanical parts and ensures a fast and secure closure
EASY 2 WEAR System: upper closure system that helps provide a perfect fi t thanks to the single lever closure system and the quick lock / unlock system, complete with micrometric Velcro strap for micro adjustments
Power Strap: additional Velcro closure that allows for further regulation of front tension
Spider Buckle Evo™: A closure system that allows for perfect distribution of tension over the entire surface of the tongue by acting on the single tie. A dual position lever for regulating tension depending on uphill or downhill
La Sportiva Grip Guard™: outsole with abrasion resistant, long lasting heel / toe inserts
Triple compatibility with bindings: Trab TR2 safety bindings, Tech bindings and AT bindings
Skorpius CR Liner: thermo mouldable boot liner with patented EZ Flex™ and closure overlap
Tech Info:
COLOR:  black/yellow
SHELL:  Pebax®
RANGE OF MOTION: 68°
BINDING COMPATIBILITY: TR2/Tech
WEIGHT (1/2 pair size 27): 1220G
SIZES: from 23 to 31 ½ (mondo point).