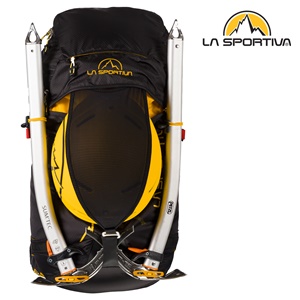 Ski-mountaineering backpack featuring ice-axe holder, lateral ski attachment, compatible with various hydration systems. Helmet holder included. Sturdy, resistant fabric. In addition to the normal opening, in the upper part, it has wide access through the back that can be completely opened.
Plus
Ideal for: ski-mountaineering and multi-day tour
Tech Info:
Weight: 960 g
Fabric: Nylon and Ripstop
Volume: 40 L.