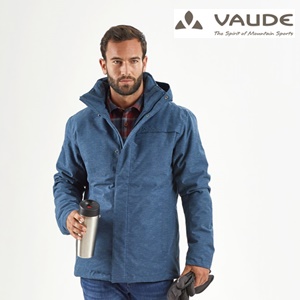 With its Mineo line, VAUDE is launching a fashionable apparel series whose urban, stylish looks strike a cord with the most discerning. Not only does it score high in the urban jungle, but the recycled materials and environmentally-friendly production takes a stand for sustainability as well.
Outdoor is everywhere! Functional apparel in cold, windy and snowy conditions is essential, and not only in the mountains but in everyday life as well. VAUDE's Urban Life collection has been successfully performing in terms of function as well as fashion for many years.
Now stylishly tackling big city winters! This is the motto for the 2019/20 season, and especially for the VAUDE Mineo look. It is the ideal winter choice for young, trendy urban explorers constantly on the go, with no time to worry about the right outfit.
Real men need warmth
Jack Frost visited in the night? Then even HE needs an extra portion of warmth – the Men's Mineo Padded Jacket, an urban insulation jacket, offers just that. The functional warmth of PrimaLoft® Insulation keeps your body warm while the hood also keeps your ears toasty. The outer material and a finely embossed lining made of recycled materials catch the spirit of the age and are just as popular with fashionistas as they are with eco-warriors. When the temperatures rise, the Mineo Padded Jacket can be easily stowed away in your bag or backpack to save space.