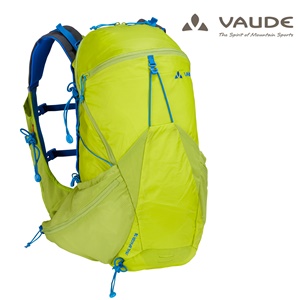 The VAUDE Trailpack combines the best of both worlds: a comfortable suspension system with a removable, waterproof packsack. And it can be used for a wide range of activities: The Trailpack earns high points when it comes to bike packing, everyday cycling and other outdoor adventures.
Calling the VAUDE Trailpack just a bike backpack would be a real understatement – because this Jack of all trades can do so much more: It's a pack for the daily commute or for couriers, a modular addition to other bags for bike packing and a transport system for bulky loads.
Versatile bikepacking backpack system
The Trailpack features a comfortable suspension system with a molded body made of robust canvas and an insertable, waterproof packsack. Its EMP Bike suspension system with its slightly curved "Ergonomic Movement Panel" provides more stability, especially for higher loads. In addition, the Ergo Shape shoulder straps offer a plus in wearing comfort due to their ergonomic shape while maintaining great freedom of movement – ideal for your next bikepacking adventure.
Waterproof bike pack with a volume of 28 liters
The suspension system is outfitted with a 28-liter waterproof bag featuring an equally waterproof roll closure – while compression straps hold everything in place. It offers flexible space for clothing, stoves, food and other important gear.
The Trailpack is up to the standards of other backpacks in terms of features: it has side pockets and a hip belt pocket in which everything that needs to be quickly at hand can easily be stored. In addition, it comes with a lid compartment and a spacious tool compartment in the bottom of the backpack.
Another highlight: The suspension system can also be used to transport other gear for camping or biking – like your sleeping pad, a tent, or wood for the campfire – rather than the packsack. A true multi (tran)sport talent!