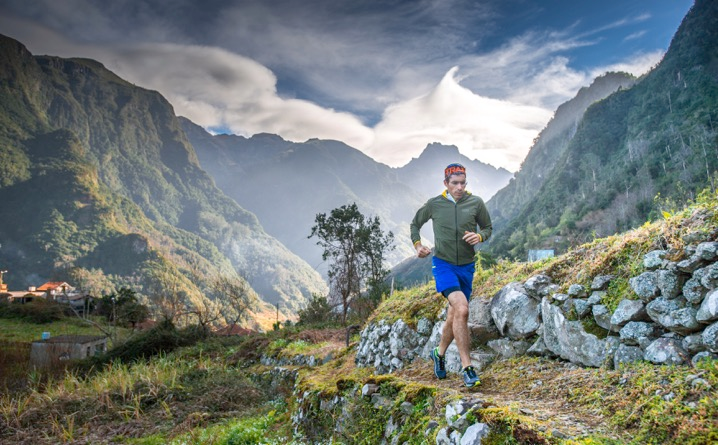 This first MaXi-Race Madeira is part of the tradition of MaXi-Races around the world: a call to travel, explore and discover beautiful landscapes and cultures through a popular event offering a personal challenge to everyone.
Madeira is the main island of the archipelago of Madeira, an autonomous region of Portugal, off the coast North West Africa. The wild and volcanic landscape is squared by "levadas" (ancient canals irrigation) with trails.
The courses of this first edition will take the winding paths, very technical trails in a forest absolutely unique in the world, the Laurissilva forest. The forest was declared World Natural Heritage of Humanity by UNESCO in 1999. The island of Madeira is A fabulous playground, between coastal paths and important elevations in particular in direction of the mythical Pico Jorge and Torrinhas. A steep and sharp island, with a third of the area above 1,000 m, and a great diversity of landscapes, beautifully colored by the blue of the sea, the azure of the sky, the green of the mountains and the white clouds.
A paradise for the Trail
The race will take place from São Vicente, in the north coast of the island, places still little known by the runners until now.
On this ground, the technicality will not be without reminding the steep paths of Reunion with a pleasant temperature, about 17ºC in this season … with also big changes of temperatures!

3 Courses Distances & amp; altitude difference:
103km & 7900m D + / 5Pts Itra to be realized in 30 hours maximum
68km & 5400m D + / 4pts Itra to be realized in 20 hours maximum
25km & 1900m D + / 2pts Itra to be realized in 6 hours maximum
Registrations are open on www.maxiracemadeira.com
Elites: They are already a few to be traveling!
Antoine Guillon (winner UTWT 2015), Gédiminias Grinius (winner UTWT 2016), Armando Teixeira
(winner Andore Ultra-Trail), Cedric Chavet (winner 6666) or Marie Perrier (winner Marathon-Race).
A trip, a race, a discovery: what if we flew away?
Only a few hours flight, a stay in Madeira is a real change of scenery.
The organization of MaXi-Races, who wish above all to propose "races for all runners ", undertakes to offer very competitive rates:
– Flights from 55 euros from Geneva round trip
– 4 * accommodation package from 30 euros per night per person near departure and from the sea ..
Program:
Thursday, December 6, 2018 – Check-in / Pasta Party

10:00 – 18:00 – Registration
19:00 – Pasta Party

Friday, December 7, 2018 – Check-in / Race Briefing

10:00 – 22:00 – Registration
19h00 – Briefing MaXi-Race Madeira

Saturday, December 8th – RACE DAY

06:00 – Departure of the 103 km MaXi-Race Madeira
09:00 – Departure of the 68 km of MaXi-Race Madeira
12:00 – Departure of the 25 km race MaXi-Madeira

Sunday, December 9th – Awards Ceremony and Winners

12:00 – Arrival of the last riders
14:00 – closing ceremony.
INFO: MaXi-Race Madeira