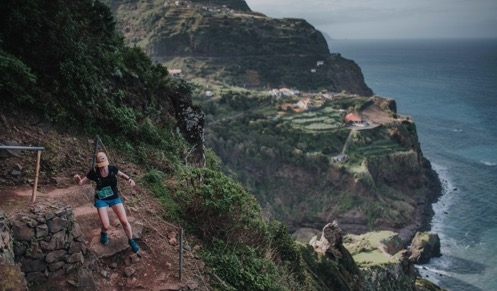 In December 2018, 150 pioneers of 12 nationalities in a friendly family atmosphere and under a beautiful sun, discovered the trails of this unique island.
A successful test edition, keeping its promises and fitting well in the spirit of MaXi-Race around the world: explore new territories in always beautiful landscapes and discover other cultures through an event accessible to all levels and for all budgets. And especially by preserving conviviality and intimacy on the courses.
It is always with its values that the 2nd edition of MaXi-Race Madeira Island will take place in the village of Seixal, in the municipality of Porto Moniz, in the north-east of the island. This little village is a treasure. Located between cliffs and waterfalls, it is a superb gateway to the mountains with new landscapes to discover.
Madeira is an Autonomous Region of Portugal, located 500km from from the northwestern coast of Africa,« and around 900km from Lisbon.
The wild, volcanic landscape is crossed by levadas (ancient irrigation canals) with trails.
The courses will again take coastal paths and important elevations, very technical in a forest absolutely unique in the world, the Laurissilva forest, was declared World Natural Heritage of Humanity by UNESCO in 1999.
Madeira Island is a fabulous playground. A steep and sharp island, with a third of the area above 1,000 m, and a great diversity of landscapes, beautifully coloured by the blue of the sea, the azure of the sky, the green of the mountains and the white of the clouds.
A PARADISE FOR TRAIL RUNNING. This jewel between mountain and ocean delighted 2018 participants from all walks of life with the victory of the Englishman Jamie Aarons and the Frenchman Antoine Guillon on the 105km in the 2018 Edition. Antoine Guillon confirmed his pleasure:
"I am very happy to end the 2018 season with an ultra quality combining what I like in this discipline: a family and relaxed atmosphere, a superb course and perfectly marked discovering trails and little known peaks of the island. I bring back beautiful images of volcanic landscapes, daring trash, rough ocean, but also memories of local dishes that have nothing to envy to the physical commitment required to complete the course. In short, a very good choice for the month of December :-)"
On this ground, the technicality is of place and will be not without reminding the steep paths of Reunion with a pleasant temperature, about 17ºC in December … with also big changes of temperatures!
4 Distance & elevation routes:
115km & 8000m D + / 5Pts Itra
60km & 4000m D + / 4pts Itra
25km & 1600m D + / 2pts Itra
15km & 700m D +
Registrations are open on www.maxiracemadeira.com
A JOURNEY, A RACE, A DISCOVERY! Only a few hours flight from all over Europe, a stay in Madeira is a real change of scenery.
The organization of the MaXi-Races, who primarily want to offer "races for all runners", is committed to offering very competitive rates:
– Flights from 55 euros from Geneva round trip
– Accommodation package from 30 euros per night per person near the departure and the sea!
– Car for rent from 30 Euros per Day with all the insurances included and Free of charge
Program:
Thursday, December 5 – Check-in / Pasta Party
10h00 – 18h00 – Bibs delivery
19:00 – Pasta Party
Friday 6th December – Check-in / Race Briefing
10:00 – 22:00 – Bibs delivery
19:00 – Briefing MaXi-Race Madeira
Saturday, December 7th – RACE DAY
06:00 – Departure of the 115 km MaXi-Race Madeira
09:00 – Departure of the 60 km of MaXi-Race Madeira
12:00 – Departure of the 25 km race MaXi-Madeira
13:00 – Departure of the 15 km race MaXi-Race Madeira
Sunday, December 8th – Awards Ceremony and Winners
12:00 – Arrival of the last riders.
14:00 – Closing Ceremony.
INFO: MaXi-Race Madeira Island