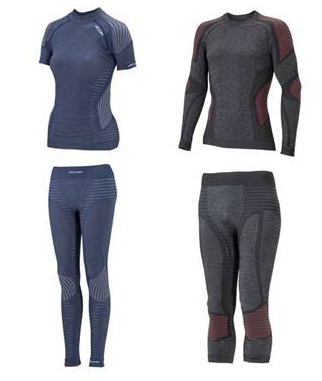 Accapi for the FW 21-22 season launches ERGOCYCLE, the underwear line dedicated to outdoor sports, made of a very high percentage of REPETITA®, the 100% recycled polyester from plastic bottles, GRS certified, which thanks to high quality Italian manufacturing processes, transforms plastic waste into a precious resource for sustainable textiles.
Accapi's ERGOCYCLE line consists of t-shirts, long-sleeved jerseys, pants and ¾ pants, available in men's and women's versions and in three different colors. Ergonomic garments, highly innovative and performing, made with differentiated compression technology that provides support to the body reducing muscle vibration and energy loss.
Light, resistant and characterized by an excellent fit, Accapi underwear embraces the body without hindering the movements and ensuring maximum comfort. Ergocycling garments are designed and built to be extremely breathable and able to protect the body from the coldest temperatures.
ERGOCYCLE by Accapi is an innovative line with a distinctly green soul. Thanks to REPETITA® Accapi makes a performing, sustainable and responsible choice to protect man and the environment. The use of REPETITA®, compared to traditional polyester, translates into production processes with low environmental impact that can reduce pollutant discharges into the environment by 100%, reduce water consumption by 86% and energy consumption by 51.6%.
T-Shirt price: € 59
T-shirt price: € 65
Pants price: € 55
Pants price: € 49,50.
INFO: Accapi