The 2015 IFSC World Cup season wrapped up in Kranj, Slovenia with a Lead competition that saw some amazing performances! In a truly electric atmosphere, Adam Ondra and Mina Markovic took gold and secured the 2015 Lead World Cup title!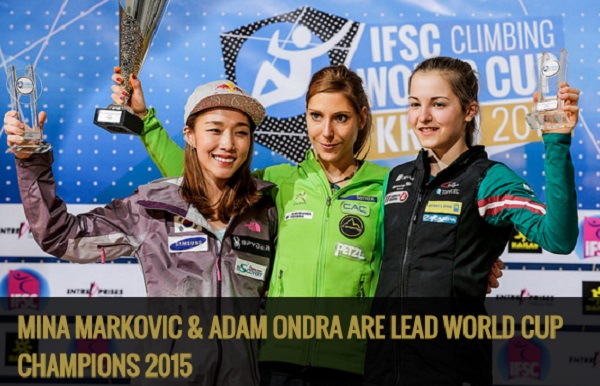 Located just a stone's throw from Slovenia's capital city of Ljubljana, Kranj hosted the final IFSC World Cup of the 2015 season. This year marked the 20th anniversary of Kranj hosting climbing World Cups, and this year's competition was a spectacular ending to a historic 2015 IFSC World Cup season!

Adam Ondra on top of 3 podiums
The Czech prodigy seems to be in a particularly great shape at the moment. After his victory in Wujiang (CHN) one month ago, he has done it again in Kranj with a very strong performance that gave him the gold. The competition was fierce amongst the top athletes, and tonight's best four competitors all fell trying to get over the lip of the roof, a few moves away from the top of the route. Sean McColl (CAN) is 2nd with a score of 37, and Jakob Schubert (AUT) completes the podium with a score of 36+.
Adam Ondra's victory in Kranj gave him the 2015 Lead World Cup title in front of Gautier Supper (FRA), who is 2nd in the Lead World Cup ranking, and Jakob Schubert, who is 3rd.
Last but not least, Adam Ondra is also the 2015 IFSC Combined World Cup winner. The Combined World Cup silver medal went to Sean McColl, and the Combined World Cup bronze medal went to Domen Skofic (SLO).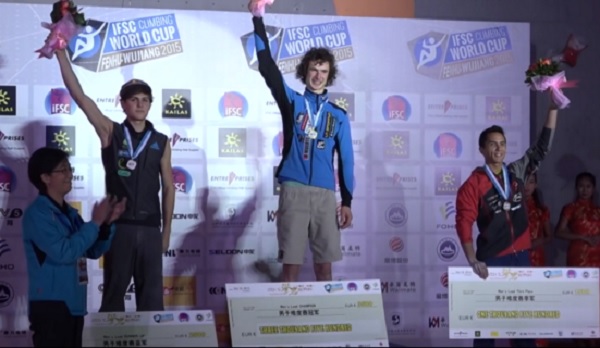 Local favourite takes gold
Buoyed by the intense cheers of her home crowd, Mina Markovic has taken gold with a narrow margin in front of Jessica Pilz (AUT), who posted the same score but placed second due to count back, and Janja Garnbret (SLO), who completes the podium. Aged only 16, Janja Garnbret is one of the sport's most promising young talent, and we should see much more good results from her in the near future!
Once again, the legendary rivalry between Mina Markovic and Jain Kim (KOR) reached an apex in Kranj as the two competed for the 2015 Lead World Cup title. With her victory tonight, Mina Markovic secured the title for the first time since 2012. Behind, Jain Kim is second and Jessica Pilz is third.
In the 2015 Combined World Cup ranking, Jain Kim is first in front of Akiyo Noguchi (JPN) and Yuka Kobayashi (JPN).

Next stop: 2016
Thank you for following the 2015 season. Stay apprised of all the goings-on and plans for 2016 at:http://www.ifsc-climbing.org
Pics from ifsc-climbing website.
INFO:  IFSC World Cup