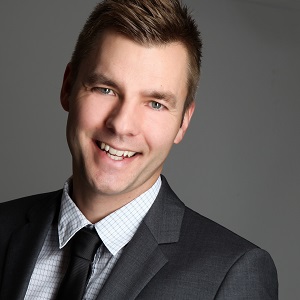 Patrick Hebling (42) takes charge of the Business Unit Product Management, Sales and Marketing at Alpina Sports GmbH as of 1 April 2018. With this newly created position the helmet and glasses specialist is gearing up for the future.

"By linking the marketing, product and sales departments more closely we are aiming for leaner processes and increased innovative capacity and agility," states Hebling, explaining the objectives of his new role at Alpina. To achieve this, he will draw on 20 years' professional experience in international sales, product management and marketing and he represents Alpina's brand DNA 100 percent. As part of his new role as Business Unit Director Brand & Sales he will intently pursue the areas of multichannel, internationalisation, digitalisation, process optimisation and customer orientation in order to expand Alpina's market-leading role and perceptibility.
"Patrick Hebling has the years of expertise to further develop Alpina with modern and efficient structures and a view to the future. He has a keen sense for market developments and customer needs. In his new role, he will contribute to the continued and future success of the brand on an international level together with the teams through inter-divisional management," sums up Christophe Weissenberger, CEO of the uvex sports group GmbH & Co. KG.
About Alpina
Alpina was founded in 1980 in Bavarian Friedberg, close to Augsburg. The company has been a specialist in the field of glasses for more than 35 years. Many innovations geared at ski goggles, sports glasses and sunglasses have given the company a name and made it a market leader in ski goggles in Germany. Since 1992, the cycling and skiing helmets have also been part of the Alpina range. Most of the products are developed at the company headquarters in Sulzemoos between Munich and Augsburg and manufactured in Bavaria. "Made in Germany" is an important matter for Alpina – on the one hand, to guarantee the product quality, on the other, to strengthen Germany as a place to work.
INFO: Alpina