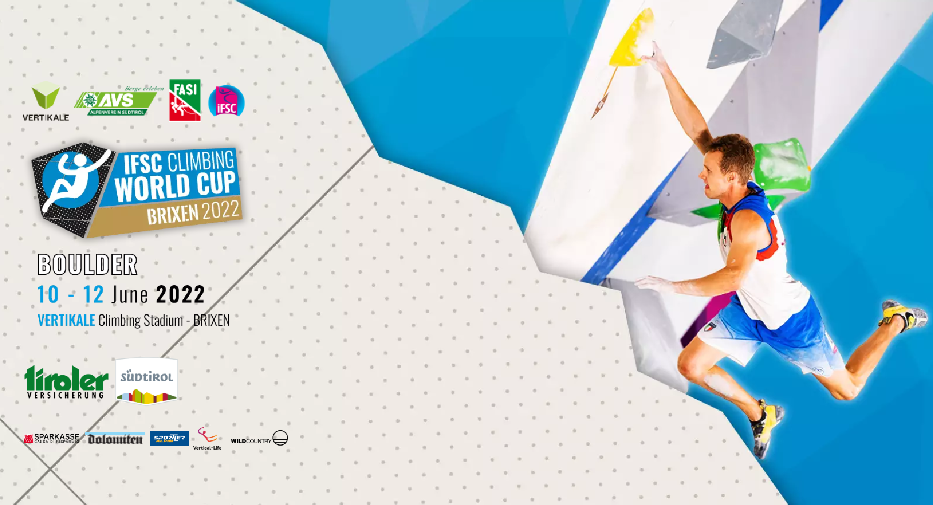 World Cup Boulder in Brixen from 9th to 12th June. 29 countries and 160 climbers already signed up. Camilla Moroni and Michael Piccolruaz about the home event. Available tickets for audience.
The great thing about climbing is the chemistry created between climbers and audience. While climbers study the boulder wall to get to the top, audience can feel the great effort and concentration behind. 1600 people awaited at Vertikale Climbing Stadium in Brixen, where in less than 20 days takes place the fifth stage of the Boulder World Cup, organised by AVS and FASI.
On June 9th, the opening ceremony takes place, qualifications are on 10th and competitions on 11th and 12th, a real show with 160 climbers coming from 29 different countries. Audience will be the very protagonist, ready to cheer climbers from Friday. 20 athletes will pass to semi-finals and only 6 to finals.
It will be such an exciting weekend: tickets are available online on suedtirol-climbing.it where different interesting options are available. Under14 get free entries to semi-finals, while qualifications are free to all.
IFSC World Cup has already took place in three different continents: in Switzerland (Europe) with the first stage, in Seoul (Asia) in May and the last, in Salt Lake City (USA) for a double stage. Among women, Natalia Grossman (USA) got another first place with 4 tops. Her compatriot Brooke Raboutou got second, third place for the Japanese Miho Nonaka. Among men, the French Mejidi Schalck broke the Japanese domination preceding Yoshiyuki Ogata and Rei Kawamata.
Brixen awaits many stars, yet the most awaited are the home-stars Michael Piccolruaz and Camilla Moroni. Moroni, second place at the Boulder World Championships 2021, said: "I feel good right now, Brixen is my true goal and I hope to get to finals. Getting something more would be amazing…I hope to find a warm welcoming in Brixen, with a great audience!"
Michael Piccolruaz knows Vertikale well: "I still facing some physical and mental difficulties this year. The first stages were not as good as I hoped, so Brixen is my goal. Climbing home in front of my audience is always special and I hope to get good energy from it."
The O.C. is working to establish last technical details before the big show. For young or old people, climbing lovers or not, the World Cup Boulder will be great and not to miss.
World Cup Ranking (after 3rd Stage)
Men. 1 Yoshiyuki Ogata JPN p. 2300; 2 Tomoa Narasaki JPN 2260; 3 Mejdi Schalck FRA 2145; 4 Kokoro Fujii JPN 1755; 5 Paul Jenft FRA 1309.5; 6 Nicolai Uznik AUT 1195
Women. 1 Natalia Grossman USA p. 2805; 2 Oriane Bertone FRA 1870; 3 Brooke Raboutou USA 1795: 4 Stasa Gejo SRB 1520; 5 Camilla Moroni ITA 1320; 6 Jessica Pilz AUT 1250. 
PROGRAMME:
Wednesday 8
9:30  PM. Film Evening: The Alpinist
Thursday 9
8:30 PM. Opening Ceremony
9:30 PM.Film evening: The Wall – Climb for Gold
Friday 10
9:00 AM – 3:30 PM    Qualification Women
4:30 PM – 10:00 PM  Qualification Men
Saturday 11
11:00 AM – 1:15 PM Semi-Finals Women
8:00 PM Finals Women
Followed by Awarding Ceremony
Sunday 12
11:00 AM – 1:15 PM Semi-Finals Men
7:00 PM Finals Men
Followed by Awarding Ceremony.
INFO: World Cup Boulder