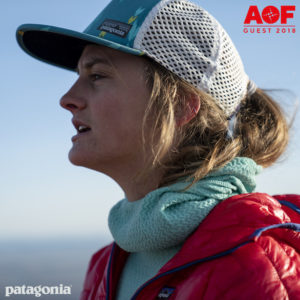 Clare Gallagher, Patagonia ambassador, is not only an exceptional trail runner but also a passionate activist for the protection of the planet. She constantly works to raise the awareness on environmental problems to the general public through projects that link her passion for running to the safeguarding of the natural environment.
On June 28 Clare will be at the Adventure Outdoor Fest, where she will talk about "Protecting Trail Across The World", she will participate in a session of Yoga runners and run a non-competitive trail at sunset, along with runners Michele Evangelisti and Yana Savechko.
Nicole Cavallari, of Adventure Outdoor Italia, interviewed her for Mountain Blog:
1. Clare, you are one of the guests of Adventure Outdoor Fest 2018, to be held in San Candido from

 

27.06 to 01.07.2018

. The town is considered the "pearl of the Dolomites". What do you think of this territory and of these mountains? Will it be the first time fot you in Val Pusteria?
This will be my first time visiting Val Pusteria and I'm just a little bit excited. 😉 I've been to Courmayer and the areas around there, but not the Northeast part of the Dolomites, the PEARL! I'm racing Lavaredo Ultra Trail prior to the Adventure Outdoor Fest, which will give me a good taste of the region. 
2. You are a trail runner with top race results but also a committed activist. Could running really save a rainforest? Can you give us some pills about your environmental protection projects?
Turning any passion into action can save a lot of things, like rainforests, our climate, public lands around the world. We have choices: who to vote to for, how to spend our free time, what to talk about and what to get involved with. I think that as a trail runner, it's my duty to care about the climate and natural places of this Earth. I enjoy running in wild places immensely and think they have an irreplaceable value. Thus, I am an advocate for electing smart people into office who will take care of our Earth. If you trail run, how do you give back to the land and climate you enjoy so much? Who do you vote into office? That should be starting point 1. Consider who is your president, your state representative. 
3. You coined the word earthraging. Could you better explain what it means?
Enjoying Mother Earth while protecting her.
4. You are an American athlete but you love European contexts a lot. What are the differences you find in running in the Dolomites environment compared to the United States?
The trails are steeper in the Dolomites and the Refugios are better than any American hut because American mountain huts don't really exist like they do in Italy and throughout Europe. There is a very natural trail culture in the Dolomites that I love immensely. People going on hikes constantly, enjoying a lunch on a mountain. That same culture doesn't exist in America because so many of the mountains are remote. We practically live in our cars in America; some may call us less civilized 😉 
5. In 2017, you won the CCC 101k in Chamonix, France.

 

How do you prepare yourself before an important race? Is there space in your preparation even for yoga or meditation practices? And what about your food's habits?
I mediate, sure, but I mainly run. If I'm injured, I'll bike or swim, but I can usually handle a decent amount of volume (60-80 miles / week) and I eat what a want when I want. I don't eat meat because it's such a contributor to climate change and is so easy to cut out. I'm a celiac, as well, and have a mean sweet tooth. 
6. We cannot wait to listen to you and run with you in San Candido. Could you send a message to the keens of trail running to invite them to run by your side?
Maybe you mean queens of trail running? I will sent a courier bird out to them! Thanks for inviting me. 
If you are curious to meet Clare, talk and run with her, the appointment is on June 29th in San Candido for the sixth edition of the Outdoor Adventure Fest.
PHOTO CREDIT: Brendan Davis.Nicole Cavallari