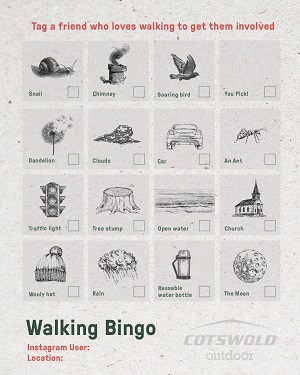 A fun way to clock up the kilometres during walking month this May, Cotswold Outdoor are inviting the British public to turn their daily stroll into a game of Walking Bingo, releasing a new card each week.
May is National Walking Month, a time when UK charity 'Living Streets' encourages the country to get walking, get fitter and create a safer environment for pedestrians. In 2020 the charity's annual celebration of walking will focus on the big mental health benefits that come from small steps. Encouraging every able person to schedule in at least 20 minutes of walking to their daily routine.
A fun activity that complies with social distance regulations and keeps individuals, couples and families all entertained, Walking Bingo turns any wander into an adventure. The game is played using ready-made cards that can be completed digitally or printed, available to download from the Cotswold Outdoor website.
Leaf on the ground, bird in the tree, clothes on the line – Bingo!
Walking bingo is played as per traditional bingo, in which the first person who marks off all the items in a row or column wins. However, the game can be extended by asking each player to find every object on their card over the course of the week. Participants will be encouraged to share their completed cards via social media – tagging in Cotswold Outdoor, using the hashtag #walkingbingo and uploading a picture from their walk for the chance to win a weekly prize.
Reducing feelings of anxiety and improving sleep quality are just two of the many reasons why ancient Greek philosopher Hippocrates was right in historically declaring that "walking is man's best medicine". Walking is currently being prescribed by the UK Government to help people look after their physical and mental wellbeing under present circumstances.
For full information, including how to take part in Cotswold Outdoor's Walking Bingo, here.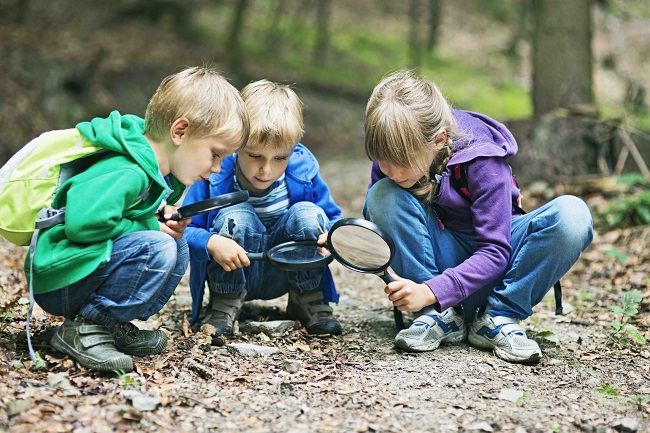 About Cotswold Outdoor: The Cotswold Outdoor journey began in a small out-building in the Cotswolds, selling a collection of camping accessories. By offering its customers insightful local knowledge and reliable products, the team soon opened new stores, operating across the UK.
The brand now operates over 70 stores, which are temporarily closed in line with Government advice regarding COVID-19, and employs over 1,400 dedicated expert staff. Remaining true to its roots, it supports a range of partner organisations across the UK.
Through them, and by continuing to offer quality products, award-winning customer service, expert advice and in-store services such as boot and backpack fittings, it remains one of the UK's most trusted outdoor retailers.
INFO: Cotswold Outdoor