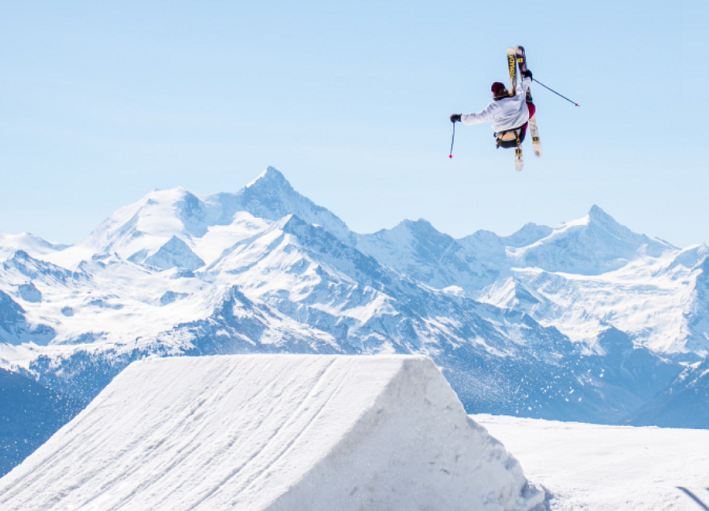 The Swiss mountain resort of Crans-Montana, located on a sunny plateau above the River Rhone in the French speaking part of the Valais Canton, has a number of events and new openings for the 2022 summer season.
Here's a round-up of key news and events, with a full summer press pack link available below:
New singletrack trail – The Valais Alpine Bike. Valais has a new multi-stage route that highlights the best Alpine single trails in the canton. The route starts in Crans-Montana, with a varied stage linking the centre of the Haut-Plateau region to the wine-growing region of Leuk, via the immaculate Tièche Valley. Mountain bikers can enjoy sunny hillsides and narrow valleys with physical climbs, exciting technical sections and smooth downhills. www.crans-montana.ch/en
New trail running event – Wildstrubel by UTMB®. Between 8 and 11 September 2022, a new UTMB® World Series trail event will be held in Crans-Montana – the Wildstrubel by UTMB®. This brand new event will offer runners a unique experience in the cantons of Valais and Bern, running through high mountain landscapes in unspoilt natural surroundings. It goes through 2 cantons, 2 linguistic regions and 5 internationally renowned destinations: Crans-Montana, Leukerbad, Kandersteg, Adelboden and Lenk.
New Wakepark line – doubles in size. Crans-Montana's wakepark, located on Etang Long Lake, allows thrill-seekers to enjoy wakeboarding, wakeskating and wake-skiing in a mountain environment. The existing 140 m line has proved very popular, so the wakepark has decided to double its lines, and will offer a 120 m line for beginners as well as a new 170 m line for the more experienced.
New hiking event – Migros Hiking Sounds. This summer, Crans-Montana will be hosting Migros Hiking Sounds, a nationwide series of events which combine hiking with open-air concerts by famous Swiss artists. On the weekend of 18-19 June 2022, an exceptional line-up will play various stages in the mountains, featuring 77 Bombay Street, Stress, Kool Savas and DJ Zsu Zsu.
Mountain Bike Event – Enduro World Series Mountain Bike race. Between 15 and 18 September 2022, and for the second time, Crans-Montana will host the Enduro World Series. The programme includes pro-races and an e-bike stage, but there are also several opportunities for amateurs to test the course and measure themselves against the world's elite.
Family festival – Am Stam Gram. The well-known family festival, Am Stram Gram, is back with a fresh new look from 14 to 17 July 2022. The festival invites young and old to celebrate the natural world that surrounds Crans-Montana, with immersive games, original shows, sensory and educational workshops, and local and healthy food and drink. By raising awareness of sustainable development among the very youngest, and by protecting the natural environment, Am Stram Gram aims to be actively environmentally responsible.
Major golf event – Omega European Masters. Located in Crans-Montana, in the heart of the Swiss Alps, the Crans-sur-Sierre Golf Club hosts the annual Omega European Masters at one of the most spectacular venues on the European Tour. This world-renowned golf competition, which will take place between 25 and 28 August 2022, has seen players such as Spain's Severiano Ballesteros, José Maria Olazabal, South Africa's Ernie Els and Britain's Lee Westwood win the coveted trophy. Three quality golf courses, a prestigious club, an indoor centre that is open all year round, a golf academy for all levels and ages…this is what is on offer for golfers from all over the world on the Crans-Montana plateau.
Contemporary circus arts – Cirque du Sommet. Discover the magical world of contemporary circus arts in the heart of the Alps, with Cirque au Sommet. It's the perfect opportunity to immerse yourself in this magical and committed artistic universe in the dream setting that is Crans-Montana. From 4 to 13 August 2022.
Electronic music festival – Caprices. Elected the best international electro festival in the world, Caprices opens its doors once again from 16 to 18 September 2022. Participants will experience mesmerizing sounds from some of the best DJs on the planet, in a dream setting at an altitude of 2,200m.