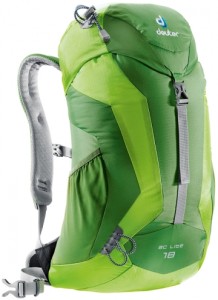 Multi Functional Backpack Test in AllMountain magazine (edition March/April 13)
Best Buy "Allround Women's Model"
What can we expect from a multi functional backpack? Can it, for example, perform good on alpine climbs and at the same time be a great pack for mountain biking?
AllMountain has tested ten models with a packing volume of 18-25 litres – looking for the "One-for-All". For this kind of pack, the brands mainly focus on carry comfort and lightweight.
Value for Money!
The "cheapest" pack is Deuter's AC Lite 18 SL. What women get: a great versatile backpack with a thought-through carrying system at a good price level. The AllMountain jury therefore awards it with the Best Buy "Allround Women's Model".
More info: DEUTER