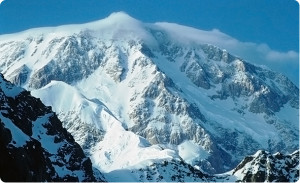 Alaska – here they come!
Gerlinde Kaltenbrunner, Deuter´s leading expert for female specific backpacks, and her husband Ralf Dujmovits have just set out on their new expedition.
The two have sent the following notes just before heading out into the very cold, very high and very harsh Mt. McKinley region – of course, accompanied by two of our best backpacks!
All the best from Deuter – and we look forward to a healthy and safe return!!!
——————————————————————————————————————
"On the 26th of April we will leave for our next adventure in Alaska.
From Ancourage we will directly head to Talkeetna, from where we will fly to the basecamp on 2.100 m. The plan is to acclimatize a bit and start with two ice routes at the Mooses Tooth. Mid May we want to move on to Denali to further prep and acclimatize at the West Rib up to an altitude of 5.000 m.
We want to summit alpine-style equipped only with lightweight bivy material via the so-called Cassin Ridge. The route via the central pillar of the South Face (rising up nearly 3.000 m) to the West Peak, the Kahiltna Horn (6136 m), is an extremely challenging route of mixed ice and rock climbing."