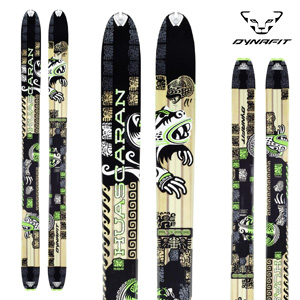 Peruvian mythology combines the different strengths of land mammals and ocean creatures. Which explains the creation of the symbol for this ski – the snow-leopard fi sh.
However, the design approach also drew on big-wave surfi ng expertise as well as knowledge of how the snow leopard maintains its grip on steep and icy terrain way up in the mountains.
The DYNAFIT team rode the Huascaran straight down from the peak, bursting with reports of razor-sharp ridges, great powder, cold temperatures, breakneck slopes and rugged glaciers.
This is exactly what the Huascaran thrives on. DYNAFIT has conjured up a masterpiece boasting the very latest ski technology in the form of a scoop rocker and micro sidewalls for maximum grip on every turn.
It's the perfect ski, able to be aggressive while being light as a feather. With its long, progressive tip as well as fl at tail, the Huascaran delivers maximum fl oat coupled with a perfectly smooth ride.
The Huascaran is the embodiment of skiing pleasure and precise power transfer on all terrain.
Lenght: 167cm/ 177cm/ 186cm/ 196cm
Side cut: 133-110-122/134-112-123/ 135-114-124/ 136-115-125
Radius: 35/20/30 – 35/20/30 – 35/20/30 – 35/20/30
Weight: +/– 3 % 1690 g/ 1780 g/ 1850 g/ 1940 g
Core construction: Isocore Paulownia Ultralight wood with stringers in beech and bamboo
Laminate: Fiberglass/Carbon Hybrid Technology with Titanal inserts
Running surface: Sintered graphite coatings (Electra Race)
Rocker: SkiTouring-specifi c Scoop-Rocker3 construction with different characteristics specific to each ski length.
Price: Euro 700,00