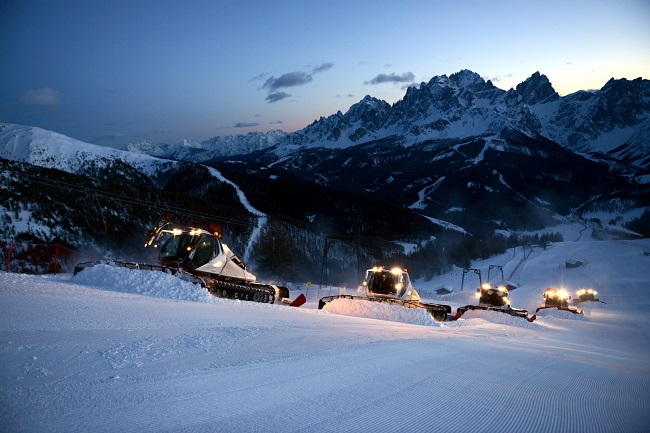 Since the skiing terrain in the Three Peaks Dolomites is so varied and distances within the resort are so short, the Three Peaks Dolomites ski resort has for the 2016/17 season created a series of exciting experiences for all types of skiers.
For high-flyers: A helicopter ride over the snow-covered Dolomites UNESCO World Heritage and boundless skiing fun on the area's most beautiful pistes is what visitors are able to experience when booking the Dolomites by Ski & Heli tour.
An absolute must for skiers with great stamina is the Giro delle Cime. The day tour through the Monte Elmo/Helm, Stiergarten, Croda Rossa/Rotwand, Kreuzberg/Monte Croci and the Val Comlico ski area features 5,600 meters of elevation gain, eleven lift rides providing spectacular views as well as many culinary peaks. Depending on snow conditions, the tours take place weekly on Wednesday and Sunday throughout the winter season.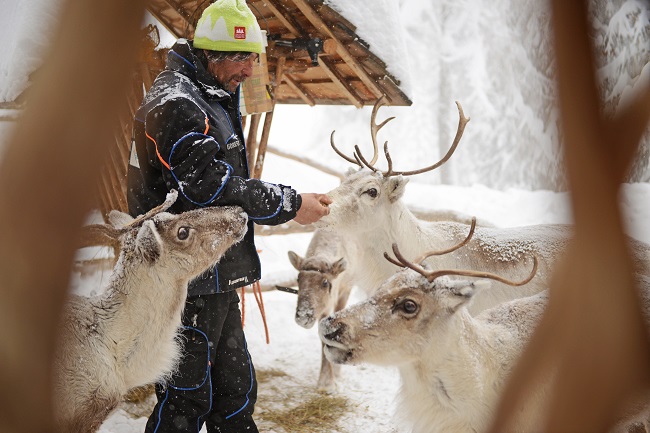 Lots of adrenaline and fascinating technical insights are offered to adventurous guests during the Free Fall Ride at the Croda Rossa when accompanying technicians on their nightly snow groomer tour. It takes them to one of the steepest runs in the Alps, the so-called "Holzriese".
Up for a skiing break? The feeding of Italy's only herd of reindeers near the top of the Croda Rossa gondola promises to become an unforgettable highlight for the entire family. The public feeding takes place every Thursday at 2 pm.
Early-morning ski tours in the Dolomites are the crowning glory of any skiing season. Those wanting to enrich this awe-inspiring experience with a breakfast in the sun should opt for the Three Peaks Mountain Brunch, available on Saturdays from February 11, 2017. On touring skis participants make their way from the valley's bottom in Sesto up to the popular panorama restaurant on Monte Elmo.
Bookings are available online.
Copyright: Ch. Tschurtschenthaler
INFO: Three Peaks Dolomites