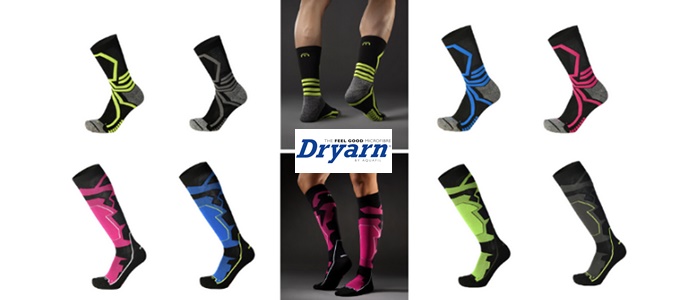 Foot protection with superb performance. These are the characteristics of the Mico ski socks made with the microfibre Dryarn®.
Ergonomic, breathable, with thermoregulating properties thanks to the presence of Dryarn® in the weave, they provide protection from the cold and from rubbing.
The use of Dryarn®, the lightest microfibre in the world with dermatologically tested and bacteriostatic properties, leads to extremely light garments that are perfect for direct contact with the skin.
Technology and innovation without sacrificing style and comfort.
The FW 22-23 Mico socks made with Dryarn® are like a second skin, allowing unrestricted movement when involved in sport. This high-performance sportswear is available in various colours with a nod to the fashion world.
X-Country MEDIA Medium Weight X-PERFORMANCE Sock.
The Dryarn® guarantees insulation and wicks moisture to the outside. They offer adherence, elasticity and comfort without extra thickness and with double structure Micotex® padding. Front and rear protective inserts; L+R anatomical insole with external 3D sponge cushion inserts; toes and heels made from NanoGlide fibre; controls rubbing and eliminates friction.
TOURING MEDIUM WEIGHT WARM CONTROL SKI SOCK.
Toe and heel made from Dryarn® and NanoGlide fibre for greater control of rubbing and eliminating friction; shin padding and invisible anti-friction flat seams.
INFO: Dryarn®