"Lovers of the outdoors across Europe continue to face restrictions in what we can do outside, and when and where we can do it. For now, we must all stay patient and follow the rules. When we eventually emerge from this crisis, the hills, mountains, valleys, parks and coastlines will still be there waiting for us.
In the meantime, we can continue to find ways to be active in and around our homes, exercising the body and mind in all sorts of ways. The outdoor industry has a long record of innovation and imagination and that is really obvious now more than ever. Our #outdoorsathome project has gone from strength to strength in the last month. Use the link below to access loads of inspiration and practical ideas that people of all ages can put into practice at home, wherever they live.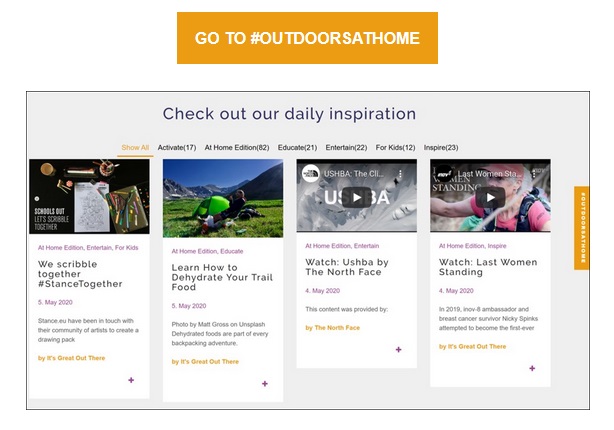 Across Europe, we're continuing to collaborate with the European Commission, supporting #BeActiveAtHome and in the UK specifically, we are working closely with the Outdoor Industries Association (OIA) and Ordnance Survey, sharing and hosting content from the GetOutside-Inside hub.
Nations are experiencing different stages of the COVID-19 outbreak and it's clear that we want all emerge from the crisis at the same time and pace, or in the same way. As and when we do, the messages at the heart of #itsgreatoutthere will be as relevant as ever, and are likely to resonate even more than in the past. But for now, please follow official guidelines to stay healthy and safe, and keep yourself occupied and active with some of the ideas collected on the #outdoorsathome page.
Best regards,
Margo de Lange
INFO: #itsgreatoutthere