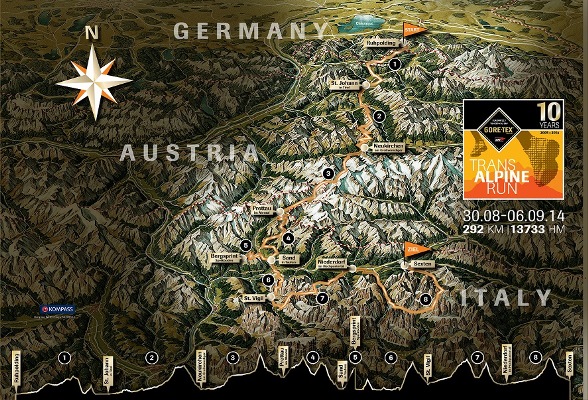 Swedish leaders of Team PEAK PERFORMANCE off the hook – Team SALOMON GERMANY relegated to feverish chase for now
Johan Johansson and André Jonsson provided a repeat performance of their previous day's stage victory as if to prove a point regarding their technical finesse and stamina. The two Swedes arrived in St. Johann, Tyrol (AUT) after 4:15:26 hours – nearly ten minutes ahead of the long-favored Germans Stephan Hugenschmidt and Mirco Berner. The third fastest time once again was claimed by Spanish Team LA SPORTIVA – MULTIPOWER (Lopez/Gil). After only two of eight stages in the 2014  GORE-TEX® TRANSALPINE RUN the Scandinavians enjoy a comfortable lead of over eleven minutes on their closest competitors.
The second stage in the 2014 GORE-TEX® TRANSALPINE RUN packed a punch with a distance of 49.2 km and a single, sustained climb of 1,819 m vertical. While the leading teams coped well with the demands of the stage, it was the slower racers who showed first signs of suffering and, to add insult to injury, had to bare the brunt of rapidly deteriorating weather later in the day. Soaking rain and temperatures just above freezing at the highest elevation of stage led to higher than normal attrition in the field, which has shrunk to just below 300 teams that remain in the competition.
The leading Men managed to avoid the rain altogether with a pre-noon arrival in Neukirchen, thereby still enjoying excellent trail conditions that allowed for a furiously fast downhill to Neukirchen. Johan Johansson and André Jonsson showed few overt signs of exhaustion as they arrived at the finish. The former's commentary on the stage, which would have proved demoralizing to many others, summed up their day nicely: "It was a long and hard day but it went really well. We paid attention on the downhills as not to injure ourselves. There are another six days to get through in this race".
Even though it would be premature to speculate on the outcome of the competition this early in the race, it is clear that any podium aspirations will have to be negotiated with Swedish Team PEAK PERFORMANCE, two outstanding athletes who seem synched in their running. Other teams didn't fare that well – among them the second-ranked German Team SALOMON GERMANY. Mirco Berner fought very hard all-day to be able to keep up with teammate Hugenschmidt admitting that "Stephan had to wait up repeatedly. This was a really tough day". The Germans, however, were quick to commend the leaders on their strong form.
"The Swedes ended up being appreciably faster than us. I'm bowing particularly to Johan who was extremely strong on the climbs".
The deciding trail section that cinched victory for the Scandinavians were the steep switchback trails leading up to the day's summit elevation. Johansson and Jonsson managed to pull away on this stretch and skillfully saved that lead into the finish on the relentlessly steep 10-km long descent.
The Italian Team GORE-TEX® ACTIVE proved similarly invincible among the dominant Women teams. Tamara Lunger and Annemarie Gross arrived in Neukirchen after 5:56:56 hours on the trail – well ahead of their competition. While the former had found the stage to be "tough on the mind" teammate Gross, an experienced veteran of many such races, shrugged the seemingly-endless albeit gentle climb off. "It was pretty fun although being super cold up top". Gusting winds contributed to the nippy conditions at altitude and clearly affected Team SAUERLAND GORE-TEX 1. The Germans were third to arrive at the finish after having taken shelter at the lift station for a short while. Carmen Otto shared that she had suffered numb fingers to the extent that she had "to ask a spectator to help with opening the zipper on the backpack when rooting for an extra layer of clothing". Her teammate Anne Gerlach endured a foot injury which she brushed aside while on the trail but had to have looked at by medical personnel after finishing. "At first I thought it was a pebble in my shoe but apparently it's a little more serious than that".   Cati Llado and Angie Rigo Bibiloni (Team SA MILANA – ALARO) benefited from their competitor's misfortune, passing the Germans, thereby advancing to second place in today's stage as well as in the overall ranking with a time of 6:13:32 hours. By the time Team SAUERLAND GORE-TEX 1 crossed the finish line they trailied today's leaders by seven minutes.
Team BUFF, represented by lightning-fast Spaniards Emma Roca and Gerard Morales, once again dominated the Mixed category with their fabulous time of 5:01:37 hours. Emma Roca was satisfied with the pace her team set. "We maintained good speed and it got better over the course of the day". Despite repeated efforts by Team GARMIN ADVENTURE (Freslon-Bette/Bette), the French did not manage to launch a successful attack on the leaders and once more was relegated to second position (for the day and in the overall ranking). Susanne Wings and Samuel Nef (RUNNING TEAM ORTHOMOL SPORT) were able to defend their third place in today's stage which also secured that rank in the overall ranking.
The Master Mixed category provided an unexpected upset as the hitherto leading team of Anna Pedevilla and Patrick Costabiei (Italy) had to withdraw from the race. Annelise Felderer and Markus Planötscher (Team NIEDERDORF) filled that gap competently moving into pole position with today's time of 6:00.48 hours.
The leading teams in the Master Men and Senior Master Men categories did not deliver any surprises defending the ranks they had established on the previous day. Pascal Giguet and David Pasquio (SCOTT GORE-TEX FOOTWEAR TEAM) increased their lead further as they required no more than 4:36:16 hours to cover the 49.2 km distance between St. Johann and Neukirchen, Austria.   The two teams trailing them, however, duked it out throughout the day. Russians Artem Rostovtsev and Oleg Kharitonov managed to hang on to second place in the overall ranking but still missed the podium by a hair. Italians Eugen Innerkofler/Ivano Molin (Team Dolomiti Superbike) moved up in the daily ranking to second place ahead of Seppi Neuhauser and Sejad Mulahalilovic podium regulars in several previous races.
Among the Senior Master Men, Italians Rudi Schöpf and Alfred Psenner (Team LATSCH/SKINFIT BOZEN) once again led the way arriving in Neukirchen with a time of 5:17:54 hours. Their fellow countrymen Peter Paul Steinhauser and Michael Stegert once again trailed them – today by another 7:44 minutes.
The jury is still out whether tomorrow's stage can take place on the planned course. A severe cold front threatens to dump an appreciable amount of snow in association with strong winds on the Birnlücke, the pass which marks the High Divide in this part of the Alps and represents a difficult ascent under the best of conditions. A decision as to whether the race will fall back on an alternative course will be made as the day breaks tomorrow.