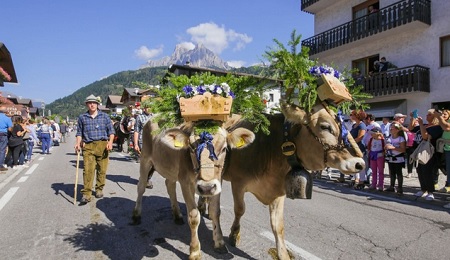 The amazing event celebrating the end of the Summer Season with livestock coming back from mountain pastures takes place every year in Primiero Valley and attracts lots of tourists particularly looking forward to seeing the Sunday's parade.
The Gran Festa del Desmontegar begins on Thursday, the 21th of September with a bovine's show in Fiera di Primiero and continues with lots of events taking place during the following days: on Friday, visit at the local cheese factory, a walk under the Pale di San Martino with a tasty snack, visit of the center of Fiera di Primiero with the atmosphere and traditions of the farm's world and of the village of Transacqua with the stands of local agritourisms, farm animals, tasty local products and much more.
On Saturday you can chose between two tours of different length, both going through the green meadows of the wonderful Canali Valley to discover typical mountain houses and traditional activities. in the afternoon you can visit a local brewery and Mezzano, classified as one of Italy's most beautiful villages.
The final event takes place on Sunday, with adorned livestock and farmers taking part in a beautiful parade in their typical dresses.
During the whole event, don't miss the chance to eat a typical mountain dish and to taste local cheese and beer.
Photo credits: ph Of. Projects