Jongwon Chon clinched the season Bouldering title in semi-finals of IFSC World Cup Munich, joining Shauna Coxsey atop the season podium, and Janja Garnbret and Jan Hojer excelled in finals to win the seventh and final IFSC Bouldering World Cup of 2017. In an exciting season finale, world-class Bouldering athletes battled wind and rain on Friday and competed before a sold-out crowd on Saturday at the famous Olympiapark in Munich, Germany.
Janja Garnbret wins in style
The first problem of the women's final was powerful, with slaps on large features and a crux dyno. Great Britain's Shauna Coxsey, who clinched the season Bouldering title at IFSC World Cup Navi Mumbai, and Akiyo Noguchi of Japan flashed the problem. Slovenian Janja Garnbret took the lead on W2, solving a cumbersome start and dramatically sticking the final move for her second straight top. W3 featured another challenging start, which only The World Games champion Stasa Gejo conquered. Garnbret secured the victory in Munich by working through the dynamic crux of the final problem for her third top. She placed second in the women's season Bouldering rankings. Coxsey flashed W4 for a Silver medal, and Noguchi placed third in Munich and third in the season rankings with her quick ascent of W1.
Thundering applause for Jan Hojer
The men's final began with a technical slab. All the finalists topped the problem, including Korean Jongwon Chon who had clinched the season Bouldering title in semi-finals. Jan Hojer of Germany took the lead with the sole top of M2, a powerful and dynamic problem. Every finalist connected the precise moves and stuck the concluding lateral dyno of M3. Needing one final top to secure the victory, the home crowd went wild when Hojer matched on the last hold. Tomoa Narasaki of Japan placed second in Munich and second in the men's season Bouldering rankings. His teammate Taisei Ishimatsu placed third by one attempt. Russian star Aleksei Rubtsov missed the finals cut but placed third in the rankings.
Japan dominates team rankings
Japanese athletes competed exceptionally all season long and defended first place in the Bouldering team rankings with over twice as many points as the next country. Great Britain and Slovenia, also strong teams in 2017, placed second and third, respectively.
Thrilling end to European Championships
The European Climbing Championships concluded this weekend in thrilling fashion. Tied after the extended IFSC World Cup Munich semi-finals, which served as the European Bouldering Championship finals, Garnbret and Gejo faced-off in an historic single-problem superfinal.

Gejo completed the dyno to set the high point and join Hojer atop the Bouldering podium. After strong performances at the European Lead and Speed Championships in Campitello di Fassa, Italy, Garnbret and Hojer also topped the Combined podium. Romain Desgranges and Anak Verhoeven were the Lead champions, and Iuliia Kaplina and Marcin Dzienski won in Speed.
Next: Lead and Speed season continues in Arco
With the conclusion of the 2017 Bouldering season, the attention now turns to Lead and Speed climbing.
Tune-in to the IFSC homepage for the LIVE action next weekend at IFSC World Cup Arco 2017 on August 26th: www.ifsc-climbing.org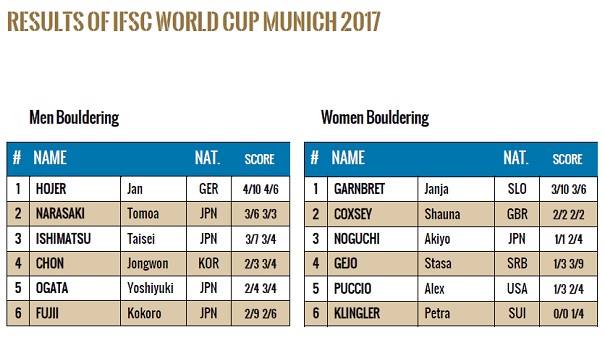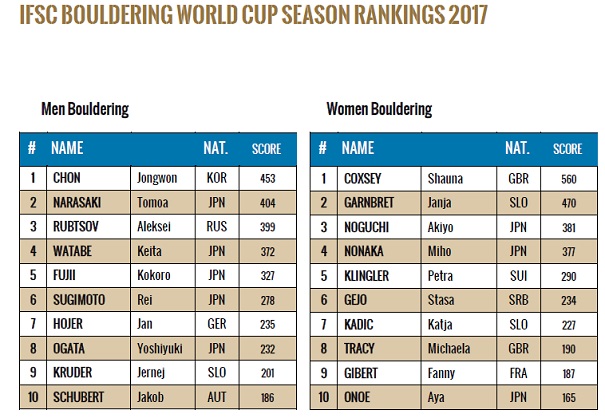 INFO: IFSC World Cup Munich