After Lead and Speed climbing in July, hundreds of the best Bouldering athletes in the world will compete this week in Munich, Germany, the 7th and final IFSC Bouldering World Cup of the 2017 season. Munich has become a staple in the IFSC season, hosting Bouldering events every year this decade. This year, 292 athletes from 47 countries are registered to compete in the famous Olympiapark for another decisive event.
Chon and Japan leading, Coxsey champion
Japan is in control of the team Bouldering rankings, with seven men and four women ranked in the top ten. Akiyo Noguchi, Keita Watabe and 2016 Munich winners Miho Nonaka and Tomoa Narasaki are all positioned well to make bids for the season podium, and Yoshiyuki Ogata should impress after winning Gold at The World Games 2017 in Wroclaw. Great Britain's Shauna Coxsey already secured the season title with her fourth victory of the season at IFSC World Cup Navi Mumbai, and Jongwon Chon of Korea leads the way for the men with three wins.
A strong European field Russia's Aleksei Rubtsov has made the most podiums for the men this year (4), and he is a strong contender for the season title since the lowest of seven scores is dropped in the final rankings. After missing Navi Mumbai, Janja Garnbret is back on the start list and can finish on the season podium with a strong performance in Munich. She will be joined by Lead star and Slovenian teammate Mina Markovic. Be sure to follow the progress of Stasa Gejo of Serbia as well, winner in Wroclaw.
Formidable teams
More athletes will compete from the host country than from anywhere else, with Alma Bestvater, David Firnenburg, Jan Hojer, and Monika Retschy at the forefront of a large German team of 32 athletes. The French team will also be well represented, with 2016 Munich finalists Manuel Cornu and Mickael Mawem climbing alongside Jeremy Bonder, Fanny Gibert and Alban Levier. From the United States, veteran Alex Puccio leads a young and talented American team.
Watch it LIVE
Watch the grand finale of the 2017 Bouldering season in Munich on August 19th, LIVE on the IFSC homepage: www.ifsc-climbing.org
The full schedule, starters, 2016 replays and highlights can be found on the Munich event page, and chat with us on Twitter during semi-finals and finals by adding #IFSCwc to your tweets.
IFSC WORLD CUP (B) MUNICH (GER)
Provisional Programme (GMT + 2)
Friday, August 18
07:00 Men Qualification
17:00 Women Qualification
Saturday, August 19 (LIVE)
10:00 Men and Women Semi-Finals
18:00 Men and Women Finals
21:45 Awarding Ceremony
CURRENT BOULDERING WORLD CUP RANKINGS
As of IFSC Climbing World Cup (B) – Navi Mumbai (IND) 2017 (24.06.2017)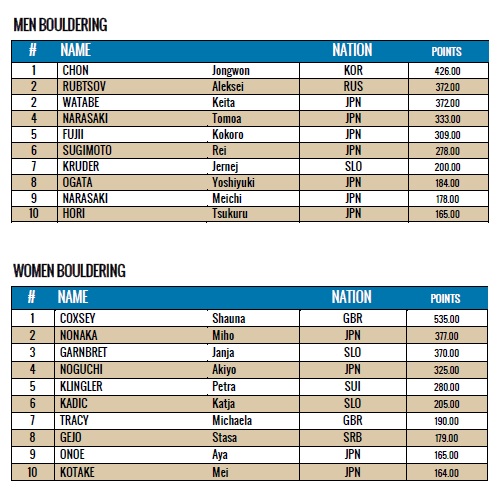 INFO: IFSC