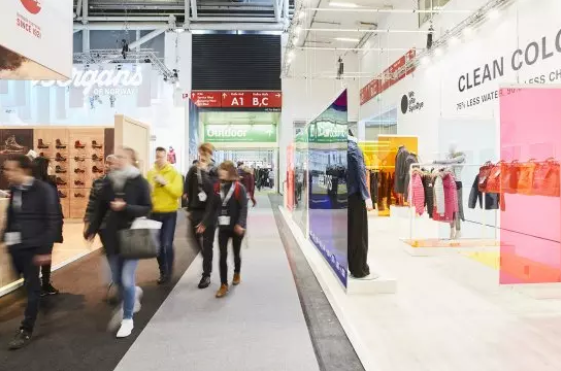 The largest and most important sports platform in the world is taking place. The IAA Mobility has impressively shown that international trade shows are possible again and that the desire to meet is huge. Be there when the global sports world comes together in Munich. The Home of Sports awaits you with a trade show, integrated hybrid conference for business professionals ( Jan. 23, 2022 – Jan. 26, 2022) and with the new Consumer Festival in the Collaborators' Zone (Jan. 21, 2022 – Jan. 23, 2022).
The pandemic has constrained us all and shifted priorities. Sports have never been more important, challenges never more complex, and opportunities for sustainable growth never greater. It's time to meet again.
The exhibition halls as you know them and the biggest part of ISPO Munich. Present your brand and what it stands for. During the most important event of the year.  You can bring your own booth (floor space) or choose one of our pre-built booth packages (plug & play). In the Exhibition Halls you will experience ISPO Munich the way you are used to. International, business-oriented, unique.  Choose this option for stand space and to present your products, trends and innovations. Feel free to contact us here if you need advice. Book your floor space now
This year, ISPO Munich is going one step further. In our Experience Hall you will find curated exhibitors presenting their innovations, concepts and solutions for the megatrends of the future.  The Experience Hall is the perfect space for anyone who wants to develop solutions or contribute consulting expertise – regardless of industry. In addition, the Hybrid Stage in the Experience Hall is the bridge to the digital event. The Hybrid Stage program not only brings together brands, retailers, media and influencers in different formats, but is also a platform for participants outside the sports business to give sports access to expertise and experience from all relevant disciplines. Choose this option for your booth space and/or stage time (upon request). Feel free to contact us here if you need advice. Book your floor space now
The desirability of ISPO Munich among sports, outdoor and lifestyle enthusiasts is huge. For the first time in the history of ISPO Munich, there will be a dedicated area in Halls B5 and B6 to inspire consumers. The Collaborators Zone – closely linked to the member-strong ISPO Collaborators Club – is the place to meet opinion leaders and address new interesting target groups. Here, products, tests, workouts, workshops, entertainment and much more will take place in a lively setting. This is the perfect environment for you to meet with your customers and consumer experts. Trade visitors to the B2B areas automatically receive access to the Collaborators Zone. Choose this option for your booth space, stage time (upon request) and/or workshops as well as workouts. Feel free to contact us here if you need advice.
ISPO Munich is offering even more possibilities in its halls this year. In the future, the world's largest and most important sports platform will give even more sports and sports-related topics a home and bring together all its movers and shakers and trendsetters from all over the world. We are proud to present our lively and hybrid hall concepts for your brand! You still have questions? Don't hesitate to get in touch with us.
INFO: ISPO Munich 2022