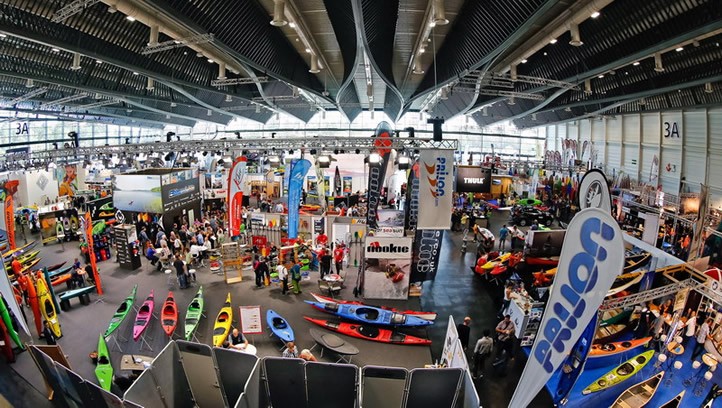 The new multi-sports business platform ISPO SHANGHAI receives strong encouragement from leading brands and industry giants, underlining the great growth potential of the kayaking and water sports sector in the Asia-Pacific regionn.
ISPO SHANGHAI, taking place from July 2 to 4, 2015, will be the first cross-segment sports business platform in the growing Chinese market, with the kayaking and water segment expecting tremendous growth in the Asia-Pacific region.
The partnership between the PADDLEexpo – the world's largest exhibition for Paddle Sports – and ISPO MUNICH will now also incorporate ISPO SHANGHAI: "Our partnership with ISPO SHANGHAI will foster the growth of the paddle sports industry internationally. As the interest for paddling is growing quickly in China, we are happy to start this cooperation. We can now also offer our paddle sports exhibitors the perfect platform to launch and grow in China and Asia-Pacific", says PADDLEexpo's show director Horst Fürsattel.
PADDLEexpo and ISPO SHANGHAI will invite business professionals of the leading paddle and water sports brands from ISPO MUNICH to join the event: "Get ready for your paddle and watersports business in China". In this context, a representative for the Chinese Canoeing Association will provide insight into the Asian market and discuss possibilities for new customer business in the Far Eastern water sport's market.
ISPO SHANGHAI has already received tremendous support at an international level. Sue Rechner, CEO of Confluence Outdoor, the World's leading canoe, kayak, and paddling gear company, is looking forward to the new summer trade fair in China: "We are officially supporting the strategic development of watersports at ISPO SHANGHAI". Darren Bush, President of Rutabaga Paddlesports, America's leading multi-channel paddle sports retailer, is strongly supporting ISPO SHANGHAI, too. Bush will present the opportunities and challenges in paddle sports retailing to the Chinese retailers at the trade fair in Shanghai and will share inside knowledge about his personal – and highly successful – retail business philosophy.
In addition to the keynote speech of Darren Bush, paddle sports pioneer Nigel Foster will join ISPO SHANGHAI. As one of the world's most influential paddle sport personalities Foster will share some insights about his career as an adventurer, kayak designer and author as well as on his kayaking trips throughout China and Asia-Pacific.
Paul März, Exhibition Director of ISPO SHANGHAI, emphasizes: "We are happy to get such excellent feedback from our customers and are proud to have such charismatic paddle sports personalities supporting our idea. This confirms the legitimacy of the ISPO SHANGHAI concept as a multi-segment sports platform for the summer cycle."
More information about ISPO can be found on www.ispo.com and on facebook: www.facebook.com/ispo.